Crossing Guard Division
City of Albuquerque Crossing Guard Division help students and parents cross the street to and from school daily during the school year.
City of Albuquerque Crossing Guard Division is a division within the Department of Municipal Development and consists of approximately 150 part time employees.
Position Summary
Under general supervision, guard pedestrians crossings during hours when children are going to and from school. Direct actions of children and traffic, ensure safe crossing. Escort Children and pedestrians across the street.
Working Conditions
Outdoor, subject to varying weather conditions such as wind, dust, rain, snow, etc.
Position Requirements
Background check and Pre-employment physical
This is an unclassified at-will position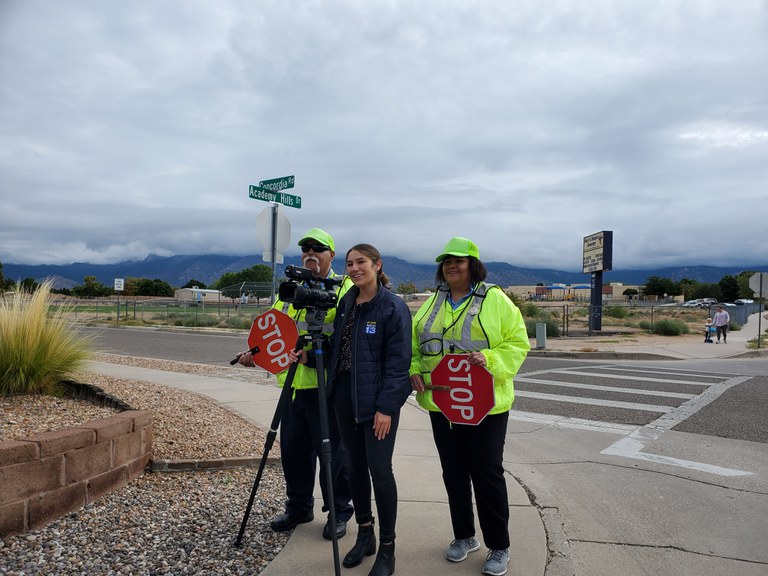 Minimum Education & Experience Requirements
Must successfully complete a four-hour training course to include a formal evaluation.
No previous experience is necessary.
Employee should be proficient on the job within twenty (20) hours serving as crossing guard.
Additional Requirements
Dependent on position, employee may be required to possess a valid Driver's license and a City Operator's Permit (COP)
Must be at least 18 years of age
This is a seasonal position
Preferred Skills & Ability
Verbally communicate well with adults & children
Interact with children effectively
Have vision correctable to 20/40 or better
Posses a hearing threshold of 40Db or better
Stand for periods of up to 1 hour, outdoors in inclement weather
Walk frequently for short distances of 26 feet or more
Hold a sign, blow a whistle and wave other hand while walking
Avoid potential danger represented by heavy traffic and inattentive drivers
Step up and down off of 6" curbs
Detect & anticipate possible dangers
Control vehicle and pedestrian traffic
Interested in being a School Crossing Guard
Yvette Sierra-Crossing Guard Supervisor