Workforce Training
Information about business workforce training.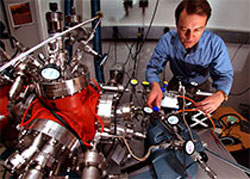 Employers are assured of quality education and training opportunities in Albuquerque.
The University of New Mexico continues to score well in national rankings, and Central New Mexico Community College is among the nation's best community colleges. Both schools have been flexible and innovative in meeting the changing demands of employers. Both institutions work with private industry and the national laboratories to improve education and training.
University of New Mexico
Enrollment, Fall 2010: 36,510
Degree programs: 94 bachelors, 71 masters, 37 doctoral.
Schools or Colleges: Anderson School of Management, School of Architecture and Planning, School of Law, College of Arts and Sciences, College of Education, School of Engineering, School of Public Administration, College of Fine Arts, School of Medicine, College of Nursing, College of Pharmacy, and University College
The University of New Mexico, founded in 1889, is the state's flagship institution. It occupies 600 acres in the heart of Albuquerque. UNM offers a wide variety of academic programs through its schools and colleges. As a Carnegie Research I institution, UNM has distinguished itself in a number of areas:
The Health Sciences Center, which includes the medical school, colleges of nursing and pharmacy, four hospitals, and the nationally recognized Cancer Research and Treatment Center
The Center for High Technology Materials, a Center of Excellence for Sematech and one of three optoelectronics centers for the Advanced Research Projects Agency (ARPA)
The Manufacturing Training and Technology Center, which supports teaching and training, research and development, start-up companies, manufacturing prototyping, and extension service activities
The Albuquerque High Performance Computing Center, which ranks among the top five academic supercomputing installations in the country
The Management of Technology program, which prepares students to assess the potential of technological innovation, manage Research and Development projects, and start and build tech businesses
Recent capital projects include the following:
The $14 million, 60,000-square-foot, Science and Mathematics Learning Center
The $90 million, 206,432-square-foot UNM Cancer Center, a state-of-the-art facility designated as one of the nation's 64 National Cancer Institutes
The $12 million Film & Digital Media Program's Aperture Center
UNM Continuing Education
The University of New Mexico's Continuing Education can design, develop, and deliver classes and certificate programs for businesses and nonprofits in its facilities or on location. Staff members can also adapt existing courses or create custom courses and curriculum.
(505) 277-6034
[email protected]
Central New Mexico Community College
Enrollment, Fall 2010: 30,534
Academic Schools: Applied Technologies; Business and Information Technology; Communication, Humanities and Social Sciences; Adult and General Education; Health, Wellness and Public Safety; Mathematics, Science and Engineering
Branches: 5
Central New Mexico Community College (CNM) is New Mexico's largest and most comprehensive community college and the state's largest educational institution.
CNM has a long and well-deserved reputation for its responsiveness to employers' training needs.
Its manufacturing processes, optics, photonics, and electronics programs are well established and in recent years the school added programs in biotechnology, microsystems, aerospace technology and film production to meet new demand.
CNM offers distance learning for both regular classes and customized classes for companies.
CNM Workforce Training Center
CNM built its Workforce Training Center in the I-25 corridor in the midst of customer-support call centers, R&D facilities, and manufacturers. Many of the school's business-related programs are concentrated here.
The center provides timely, flexible worker training for large and small companies, nonprofits, and government agencies. It can customize training based on worker assessments, and it will train workers year-round at company sites or through distance learning.
The 62,500-square-foot center has six computer labs, 18 classrooms, and a high bay for large equipment, which can be rented for everything from specialized industry training to meetings and conferences.
Other Training Organizations
Barelas Job Opportunity Center
Located in the Albuquerque Hispano Chamber of Commerce Complex, the center's mission is to develop and train a workforce from the Barelas business district, the Albuquerque downtown area and the South Valley. The center provides job listings, workshops, and some training.
The center includes Job Works, which provides such services as assessment, job referrals, counseling, and training referrals (skill improvement, retraining, job readiness) for the unemployed with emphasis on disadvantaged or dislocated workers.
1309 Fourth SW, Suite D
(505) 247-8700
Goodwill Industries of New Mexico Workforce Development Programs

As a community service, Goodwill Industries of New Mexico offers the public its Training Center, which provides a job bank that is maintained daily; a computer bank with Internet access for job searches, career exploration, and resume building; a resource library; a telephone bank to arrange appointments and talk to employers; and office equipment.
5000 San Mateo NE
View website.
Community-Based Programs – Services include assessment of abilities, skills and interests; job leads and matches; interview training; resume building; transportation assistance; on-the-job coaching; job advocacy; and services for homeless individuals.
Skills Training Programs – Programs include writing a master application; writing a resume; internet job search; personal financial management; and customer service skills, among others. Courses combine classroom work with on-site experience and internships, providing hands-on training in occupational literacy, retail, clerical, janitorial and computer skills training. Classes are offered weekly or monthly. Call (505) 881-6401 for class schedule.
Facility-Based Programs – Clients with little or no job history receive team-supported training and placement at Goodwill's own retail facilities. Clients work in a real work setting in Goodwill's processing and donation centers with supervised guidance and monitoring. Services include assessment of abilities, skills and interests, and development of an employment plan by client and support team. Pre-employment training helps client establish positive work habits. Upon completion, client may be referred to Community-Based Programs.
Southwestern Indian Polytechnic Institute
The Southwestern Indian Polytechnic Institute is a National Indian Community College that prepares Native American students to be productive life-long learners. In 2010 it ranked 35th among Washington Monthly's top community colleges. The institute provides low tuition and board to members of federally recognized Indian tribes.
Workforce Connection of Central New Mexico
The Workforce Career Center is an agency of the New Mexico Department of Workforce Solutions and is one of many employment offices around the state serving both individuals and employers.
The department web site describes education, training and apprenticeship programs.
501 Mountain NE
(505) 841-9300
Workforce Development Center
The Albuquerque Workforce Development Center is an agency of the New Mexico Department of Labor and is one of 32 employment offices around the state serving both individuals and employers.
The center's classroom training program provides up to 104 weeks of training for people in need of basic job skills or those who need to improve their skills. Courses can be taken at any community college or university in New Mexico.
501 Mountain NE
(505) 841-9300
Training Subsidies
Job Training Incentive Program
This highly flexible incentive reimburses economic-base companies (those selling a majority of goods or services out of state) for 30 to 75 percent of wages paid for up to six months. It also pays 100 percent of classroom training costs and on-the-job training provided by New Mexico institutions and part of the per-diem and travel costs of outside trainers. Job applicants must be New Mexico residents or have lived here previously for at least a year.
Workforce Investment Act
Succeeding the former Job Partnership Training Act, the Workforce Investment Act supports workforce development and training.
The Central Area Workforce Investment Board funds Job Works in the Barelas Job Opportunity Center and the Workforce Connection.