Central Pond
Whether new at fishing or a seasoned hand, try the teeming waters of Tingley Beach's Central Pond.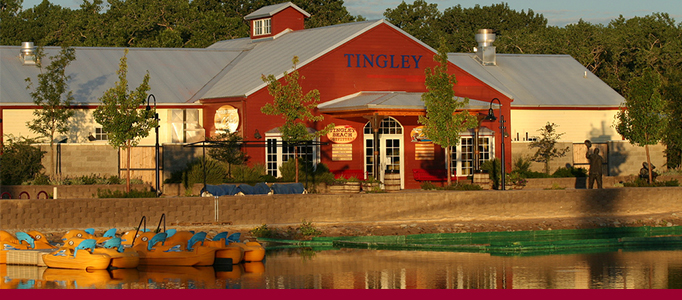 Central Pond, Tingley's largest waterbody, is designed for all ages.
It is stocked with rainbow trout in the winter and channel catfish in the summer.
The pond is also equipped with a wheelchair ramp in front of the Train Station.
More than Fishing
Visitors can also rent pedal boats to take out on the Central Pond from Memorial Day to Labor Day. Rentals for bicycles are also available here.
Walking paths and a fitness course surround the pond, and the grassy peninnsula is perfect spot for a picnic.
Central Pond Rules
Bag limit is four trout per day and two catfish per day.
Live worms and insects and artificial bait may be used in the Central Pond.
Preference for the ramp is given to adults and children fishing with mobile disabilities.
The Blue Tree Project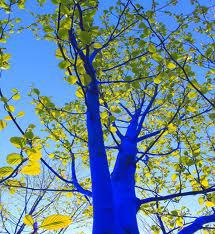 You might notice some blue trees at Tingley Beach this month. The Blue Trees Project is an international art event created by Australian artist Konstantin Dimopoulos. The installation highlights the importance of trees to our survival; Dimopoulos describes trees as "the lungs of the planet."
Transforming tree trunks to an arresting blue color draws attention to energy conservation and trees. The blue used to color the trees is a biologically safe pigmented water that will naturally degrade. Tree New Mexico and Albuquerque's Public Art Program bring The Blue Tree Project to Tingley Beach, the 4th Street Mall and Grisham Park.
For more information, please contact Trees New Mexico at [email protected] or call 505-265-4554.
Artist Statement
In nature colour is used both as a defensive mechanism, a means of protection, and as a mechanism to attract. The Blue Trees attempts to waken a similar response from viewers. It is within this context that the blue denotes sacredness, something reverential.
Trees are largely invisible in our daily lives, and it's not until it's too late that we realise how important they are to us both aesthetically and environmentally. Each year an area at least the size of Belgium of native forests is cleared from around the planet.
Yet while we do this we look at whether other planets can be inhabited, so we've got somewhere else to go once we've destroyed our own.
~Konstantin Dimopoulos