East Gateway Metropolitan Redevelopment Plan
This webpage provides information about the Proposed East Gateway Metropolitan Area Redevelopment Plan.
This draft Plan would be the culmination of a process begun in 2009. Community meetings were held from 2009-2010 to gather suggestions and concerns from area residents and business owners. The Metropolitan Redevelopment Agency also conducted an in-person survey of business owners specifically to gauge issues related to commercial properties or redevelopment. The results of these surveys, community meetings, and workshops are incorporated into the Plan.
You may download and view the Draft East Gateway Metropolitan Redevelopment Plan by clicking here.
You may download and view the proposed adopting Resolution here.

The purpose of the the Plan is to revitalize parcels along Central Avenue, from Wyoming to Four Hills Rd, creating a more welcoming corridor for residents and visitors. The Plan follows the East Gateway Metropolitan Redevelopment Area Plan boundary adopted in 2008 (image on right). It calls for reinvestment of the blighted corridor through the City's financial resources, private and public investments, and public-private partnerships. To accomplish this, the Plan outlines recommendations for improvements in the area, based off existing conditions and findings from the East Gateway Sector Development Plan. There are six strategies the proposed recommendations fall under:
Public improvements such as landscaping and sidewalk furniture.
Public-Private Partnerships ("PPP") and redevelopment activities to support public transit along the corridor.
Redevelopment of underutilized and vacant parcels and activity centers.
Beautification, such as façade improvements and iconic signage.
Safety improvements to reduce crime, such as cleaning up vacant properties and installing streetlights that also illuminate pedestrian areas.
Implementation of the Route 66 Action Plan, adopted by the City Council in 2014.
This effort is lead by the City's Metropolitan Redevelopment Agency (MRA). The purpose of the MRA is to implement projects and programs that lead to the revitalization of blighted corridors, create jobs within these corridors, and improve the public realm. Their role in this project was to identify areas in the corridor need of revitalization, oversee the Plan's development, and ultimately help to implement the recommendations within.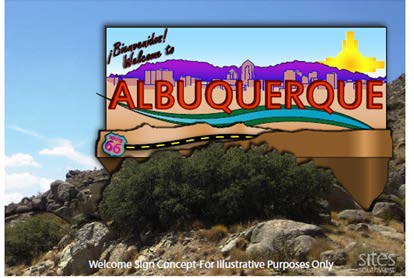 It is expected that this matter will have a public hearing at the Council's Land Use, Planning and Zoning Committee on Wednesday, March 16th in the Council Committee room on the 9th floor of City Hall at 5 p.m. Public input is welcome and encouraged in-person at the hearing, or in writing. The Plan will have subsequent hearings at the full City Council – we will update this webpage with that information as it becomes available.
For more information, or to submit written comments about the Plan, you may contact Councilor Harris' Policy Analyst, Dawn Marie Emillio at [email protected].