Los Altos Park Improvements
Improvements will include infrastructure upgrades, an additional softball field, new irrigation system, concessions area, and a BMX pump track.
Los Altos Park is one of the most used parks and athletic facilities in our City, but it is also one of our oldest and in need of improvements.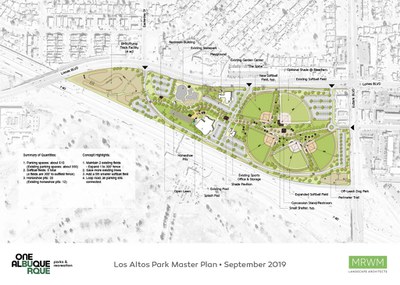 View the proposed improvements.
As part of Sports-Related Tourism package for use of $28,000,000 in Lodger's Tax Bonds for capital projects to increase tourism, Los Altos Park is proposed to receive between $10 and $10.5 million to get the 50-year-old park up to par to host regional softball tournaments by adding a new softball field, and bringing the existing ones up to standard. Infrastructure needs like a new irrigation system, safety and security improvements, concessions area, and permanent restrooms will go along with the building of a new pump track to attract national BMX events.
"By improving this facility, we'll increase our ability to attract more athletes and their families to spend their money at our hotels, restaurants, and shops," Councilor Gibson continued, "with improvements to Los Altos Park we can do two things at once, by increasing the parks capacity to host regional and national events and improve facilities for our own residents and surrounding neighborhoods."