Giraffe Feeding
On select days during the summer, get up close to a giraffe's nose!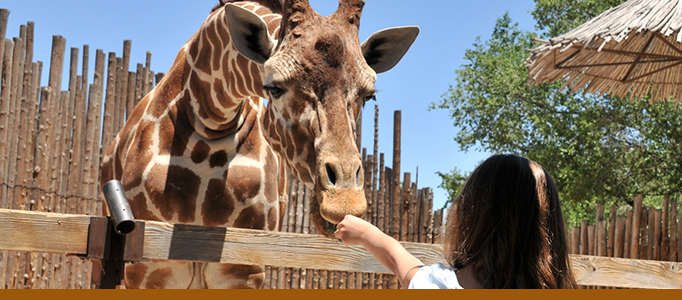 Information
Where:
Giraffe Exhibit
2019 Dates: 
May 11-26
Saturdays and Sundays
May 27-August 10
Wednesdays-Sundays 
August 11-September 2
Saturdays and Sundays 
Open on Memorial Day and Labor Day
Time: 12-1:30 p.m.
Cost: $2
Everyone knows that giraffes have long necks and can eat leaves from high in the trees.
Did you know that giraffes have long tongues too? A giraffe's tongue is about 18 inches long!
Come see for yourself just how long a giraffe's tongue is as you feed these amazing mammals.
This experience is provided by the New Mexico BioPark Society.  Proceeds benefit the ABQ BioPark.