Rental Assistance
Information about rental assistance in Albuquerque.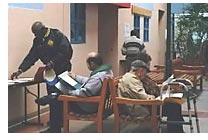 The Housing Choice Voucher (Section 8) Program allows low income citizens to find their own places to rent in Albuquerque.
Voucher holders are free to choose any house that meets minimum health and safety standards where the landlord is willing to participate in the Section 8 program.
Once a family finds a home that they wish to rent, Albuquerque Housing Authority must inspect it to make sure that it meets HUD's housing quality standards. Albuquerque Housing Authority also checks to make sure that the rents are reasonable and within the fair market rent range for Albuquerque. Households assisted through the Section 8 program pay 30% of their income toward the rent. Albuquerque Housing Authority pays private landlords the difference between what participating households pay and the rent for the units. Through this program, over 5,000 Albuquerque families receive rental assistance.
Room to Move
We can't imagine why anyone would want to leave Albuquerque, but Section 8 voucher holders can choose to be "portable." Section 8 vouchers come with portability rights that allow voucher holders to leave Albuquerque Housing Authority's jurisdiction and use their voucher anywhere in the U.S. or its territories where there is a housing authority with a Section 8 program.