Family Self Sufficiency
Information about the Family Self Sufficiency program.
The Family Self Sufficiency program is aimed at empowering volunteer families to leave the welfare system or low paying jobs so that they may create lives of greater dignity and independence.
The Family Self Sufficiency program combines Albuquerque Housing Authority's housing assistance programs with various support services to assist participating families in meeting their planned goals over a five year period.
How Family Self Sufficiency Works
Families selected to participate in the Family Self Sufficiency program must meet the general eligibility criteria of the Public Housing and Section 8 Rental Assistance programs. They are assigned a family advocate who helps them target specific goals for success and plan strategies to reach them.
Family Self Sufficiency participants qualify for substantial assistance in getting services like child care, education, job training, transportation, parenting skills and health care.
Money in the Bank
During each family's period of Family Self Sufficiency participation Albuquerque Housing Authority sets up an escrow account for them.
As each family's earning power and wages grow the family's share of rent under the Section 8 or Public Housing program goes up. Instead of charging these families more rent, AHS credits the family's increased portion of rent to their escrow account every month.
The money in these escrow accounts is presented to each participating family when they complete their period of Family Self Sufficiency participation.
Sweet Success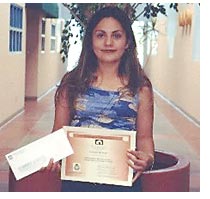 Since Albuquerque Housing AuthorityS began its Family Self Sufficiency program in 1993 we have dispersed over $100,000 to our Family Self Sufficiency graduates from their Family Self Sufficiency escrow accounts. This money can be used by the grads any way they choose, but many have made down payments on their first homes.
Congratulations to Aurora Griego who completed the Section 8 Family Self Sufficiency program in June, 2001.
During Aurora's enrollment in the Family Self Sufficiency program she became a certified dental assistant, and is now employed full time by a local dentist.
Aurora purchased her first home in July, 2001.
Aurora tells us, "I was accepted into this program as a single parent of two young girls with no hope and no where to turn. I have accomplished a lot since the beginning of my program. My potential for success is now unlimited."
Way to go Aurora!