Edit an Existing Page
Make changes to an existing page
Editing content for the City of Albuquerque is easy. Here are the tools for editing existing pages:
Task Bar and Status Box
After logging into Plone, you will notice two rows of tabs and dropdown menus at the top of each page. This area is called the Task Bar.

Checking Out
To edit a page, you should first check it out. This allows you to edit a copy (so you can always go back to the original if you don't like your changes) and also prevents anyone else from editing your page while you are working on it.
In the first drop-down menu, labeled Actions, choose the item Check Out.
Wait for your page to reload. You will notice that the State will have changed from Published to Private. No one will see your changes until you check the page back in.
Editing
Click the Edit tab in the top row of the Task Bar.
When the page reloads, you will have access to the Title, Description, and Body Text, just like when you create a new page.
Understanding the Edit Form
Each page has three main boxed sections: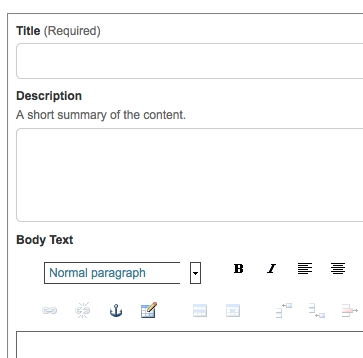 Title: The title of the page goes in this box. This title appears as the headline at the top of the page. It should be kept short but describe the page.
Note: The red box next to the Title field indicates that it is a required field. Careful! If you don't enter text here, you could lose your work.
Description: This is the summary of the page. It appears between the page title and body text. It is not required but can be useful to help your readers understand what this page is all about.
Body Text: This is the main section of the page. Here you enter and format the words and images for your page. Like the Title box, this is a required field.
Content Editor
This content editor works like a word processor -- text and images are inserted into the Body Text field, and format tools in the Tool bar help improve the appearance.
Most of the functions here are self-evident, but a few require some elaboration.A brief description of a tool's function appears if you hover your mouse arrow over the icon.

Save Your Work
When you're done entering and formatting content for a page, be sure to click the Save or Cancel at the bottom of your screen, depending if you want to save your changes or leave the page unaltered.
Take a look at the changes. Do you like it? If it's ready to be made public, choose Check-in from the Actions drop-down menu.