N.M. Icon Rudolfo Anaya Inducted into Albuquerque's Wall of Fame
World Renowned Author, Teacher and Poet Honored in a Ceremony at the Alvarado Transportation Center
Courtesy Albuquerque the Magazine
9/30/14
He's considered in many literary circles as the godfather of contemporary Chicano literature; a groundbreaking author whose work not only evokes images of the llano (desert flatlands) of his youth, but also the simple, humble world of la raza in rural and urban New Mexico.
It is for these unique images and his celebrated body of work that world-renowned author Rudolfo Anaya was honored as the 2nd ever inductee into the Albuquerque Wall of Fame.
"Our Wall of Fame honors people of achievement who have contributed positively toward making our community better," said Mayor Richard J. Berry.  "Rudolfo Anaya, through his descriptive narratives has positively opened up Albuquerque and New Mexico to the world."
Anaya was born in Pastura, New Mexico and raised in nearby Santa Rosa. As a teenager, he moved with his family to Albuquerque and never left. He went from Albuquerque High to the University of New Mexico, where he completed his B.A. and two Master's degrees. It was while teaching English in Albuquerque public schools that he began writing his seminal work, Bless Me, Ultima.
Despite the reluctance of mainstream publishing houses to publish it, Bless Me, Ultima went on to sell over 300,000 copies in 21 printings. It has become one of the most widely-acclaimed books in Chicano literature, much less any genre of literature. It went on to become a full-length motion picture in 2012.
Anaya taught at the University of New Mexico until 1993. It was during this time that his body of work grew, including such books as Heart of Aztlán, Alburquerque, Zia Summer, Rio Grande Fall, Jalamanta: A Message from the Desert, Shaman Winter and a collection of his works titled The Anaya Reader.
His career as an educator, his exposure to both joy and pain and the desire to connect with his own culture and heritage inspired a passion for writing that has brought him and his beloved New Mexico international fame and recognition. Yet he remains the educator, the poet, and the wordsmith of his people.
"Rudolfo Anaya's work has brought worldwide attention to our state," said Bruce Rizzieri, Director of ABQ RIDE. "So now, it's fitting that we honor this literary legend with a permanent place on our Wall of Fame."
New Mexico and Southern California TV icon Dr. George Fischbeck was the first inductee into the Wall of Fame in 2013.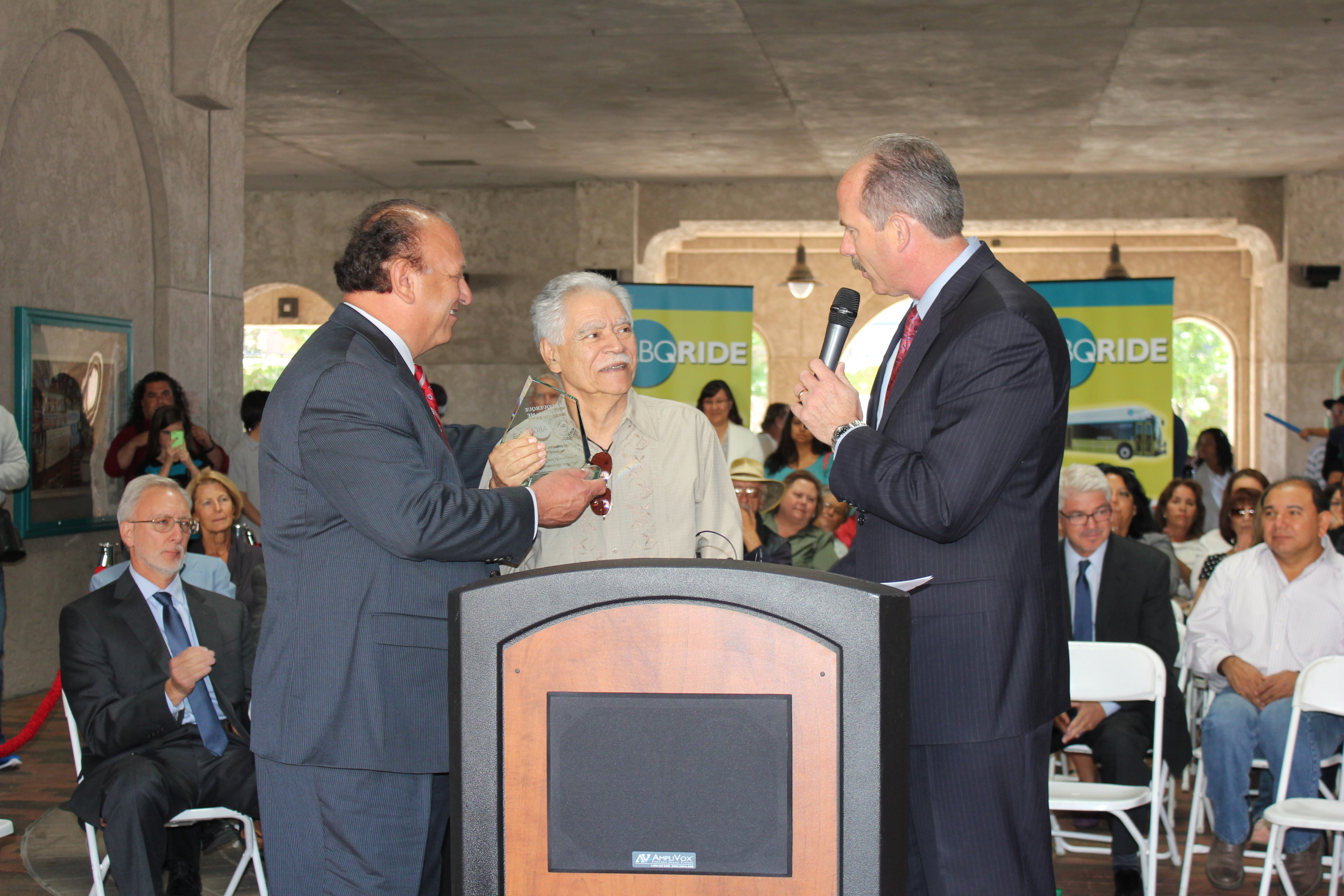 Author Rudolfo Anaya presented commemorative plaque. From left: ABQ RIDE Director Bruce Rizzieri, Dr. Cheo Torres-UNM, Anaya and Mayor Richard J. Berry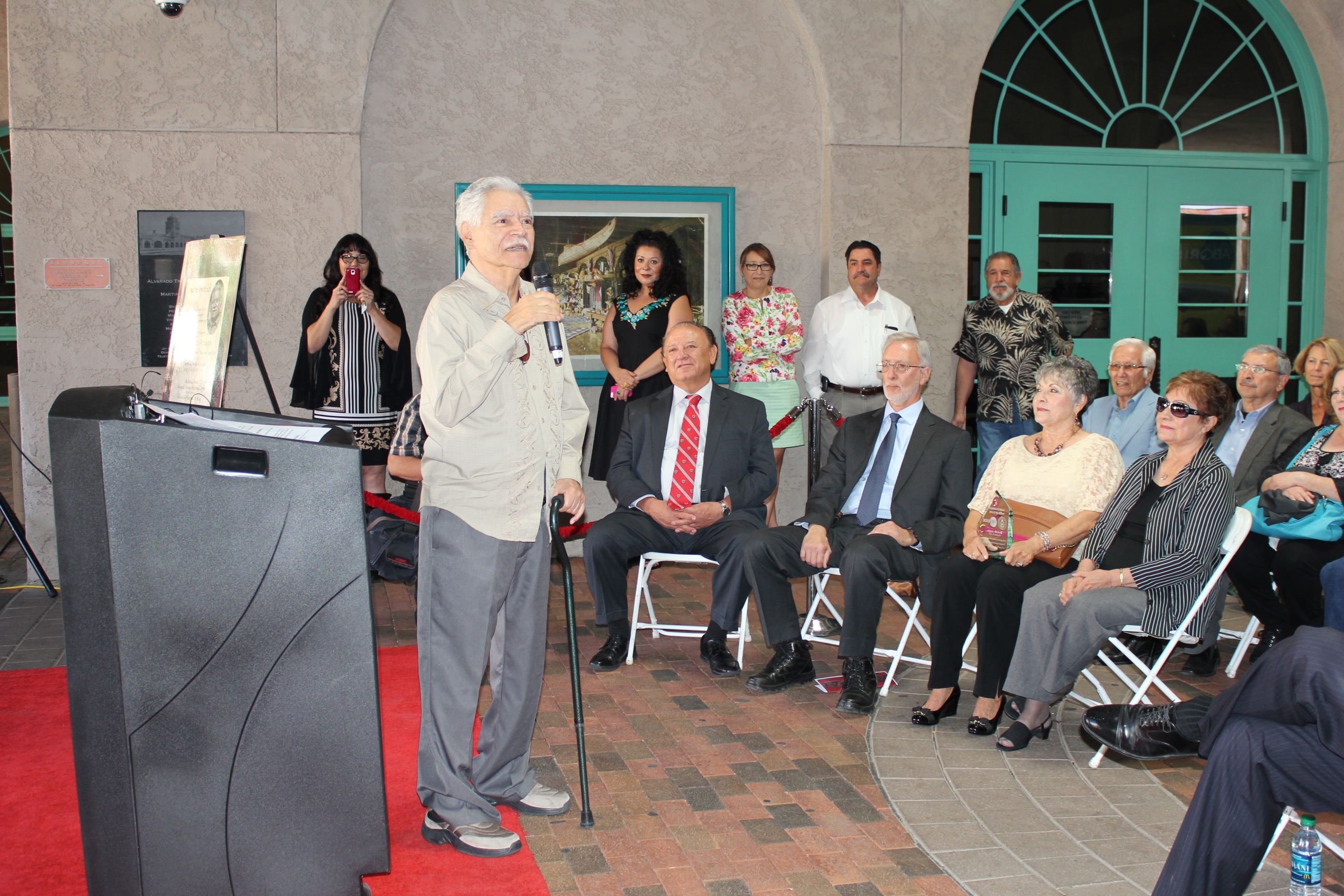 Author Rudolfo Anaya addresses guests.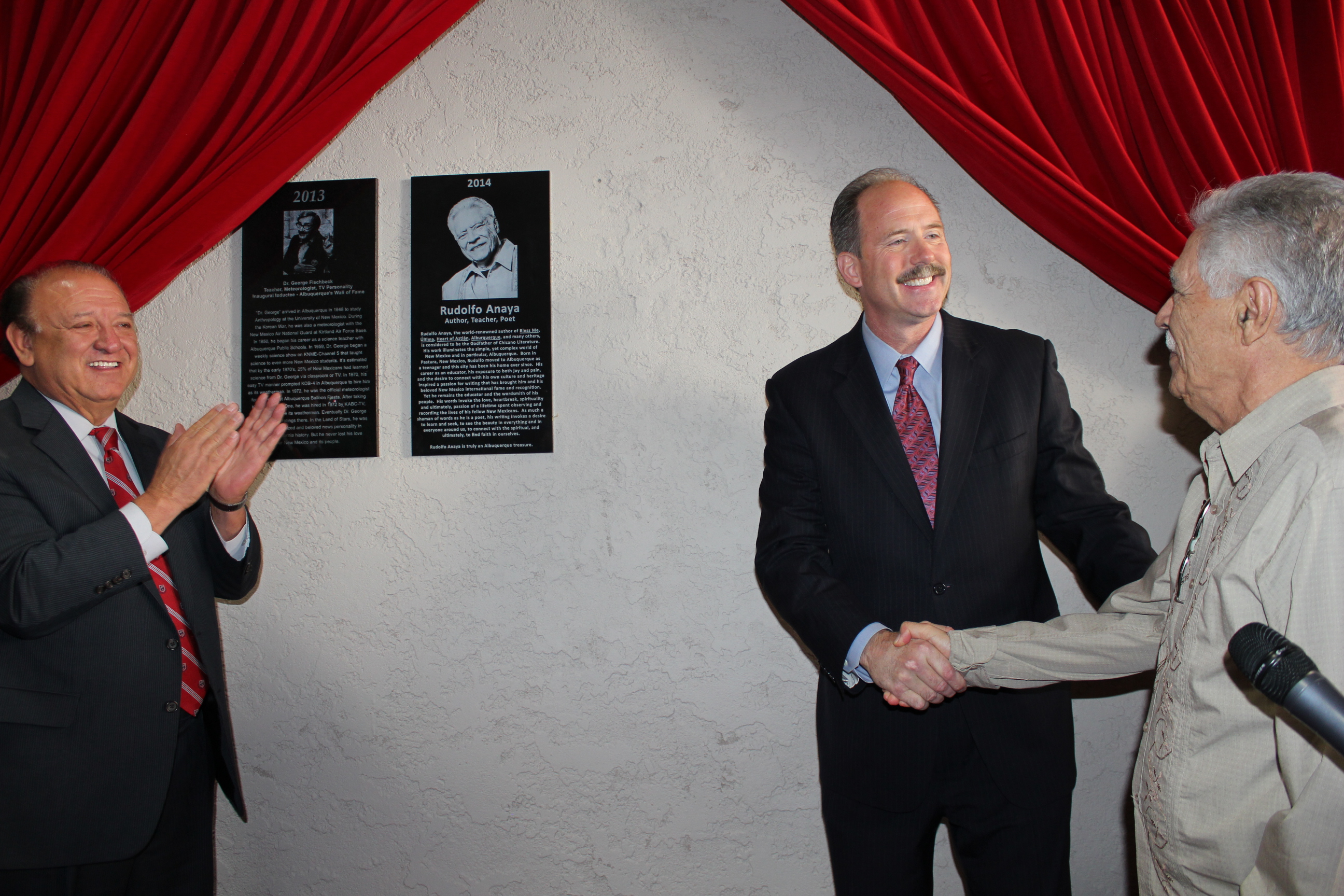 Wall of Fame Plaque Unveiled.