Benefits from a Public-Private Partnership
Aug. 14, 2012
Money found is always a blessing.  Money found in the six figures for one of the City of Albuquerque's departments during a tough economy is especially welcomed.  It's what is happening through a Public-Private Partnership with Lamar Advertising and the City of Albuquerque.
ABQ RIDE has a contract with Lamar Advertising, a national advertising company, to sell advertising on city buses and most bus shelters.  The contract stipulates that Lamar pay ABQ RIDE a percentage of advertising revenue, with a minimum annual guarantee.   When business for Lamar is particularly strong, ABQ RIDE also benefits.  Lamar successfully completed a program in which it purchased and installed 49 bus shelters and used ad revenue from these shelters to pay for the program. The completion of this program and Lamar's sales success in the past year resulted in ABQ RIDE receiving an additional revenue payment of $124,085.
"This revenue-sharing agreement between ABQ RIDE and Lamar Advertising is a win-win situation for our city," said Mayor Richard J. Berry.  "Lamar is able to consistently get its advertising across to a large measure of the city and ABQ RIDE is able to offset expenses by using its buses as advertising platforms."
ABQ RIDE shares a beneficial public-private partnership with Lamar in which revenue from advertising helps to reduce the funding Transit receives from the City's General Fund.  Mayor Berry and ABQ RIDE Director Bruce Rizzieri received the six-figure check from Lamar Advertising General Manager Casey Sexton at a news conference at City Hall today.
ABQ RIDE also reached an important milestone this summer; one that has never occurred in Albuquerque public transportation history.  July, 2012 marked seven straight months that ABQ RIDE experienced over a million boardings (1,081,063).  Only twice had ABQ RIDE ever experienced even four straight months of one million-plus boardings;  both those times occurring during Calendar year 2011.  With seven straight months of one million-plus boardings, the department is 7% ahead of last year's record-setting pace for boardings .
"Again I credit our employees, who've managed to meet record-breaking growth with just a few more routes, buses and drivers than they worked with even five years ago," said Bruce Rizzieri, Director of ABQ RIDE.  "We still aim to expand our resources in the near future to continue to better serve Albuquerque's growing transportation needs."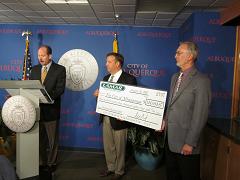 from left, Mayor Richard J. Berry, Lamar Advertising Gen. Mgr. Casey Sexton and ABQ RIDE Director Bruce Rizzieri along with $124,000 check

Document Actions