ABQ RIDE and Municipal Development Complete Last of Federally Funded Bus Shelters
Third Graders' Letter Helps Spur Improvements and Shelter at Existing Bus Stop
8/29/13
It's now open; the very last of 414 bus shelters in Albuquerque paid for by 2009 Federal Stimulus money distributed by the Federal Transit Administration; a stop on Rainbow SW across from Volcano Vista High School that includes such amenities as a shelter, bench, solar lighting and a concrete pad connected to the sidewalk.
But actually, the idea for a shelter at this location came from a class of gifted third graders at nearby Tierra Antigua Elementary School.   Last May, as part of a class studying how to participate in government, they wrote to the City and asked it to improve what was then a solitary bus stop on the #162-Ventura Commuter route.
"The result of these students taking an interest in their community and writing the City was that they helped the ball get rolling on the project," said Mayor Richard J. Berry.  "It also demonstrates the daily cooperation between our city departments to get things done, in this case the cooperation between the Municipal Development and Transit Departments."
"After receiving the class' letter, we looked at several factors, including available right-of-way and the potential transit ridership in this area," said Bruce Rizzieri, Director of Transit and ABQ RIDE.  "Both the Departments of Municipal Development and Transit then determined this was indeed a good location for a shelter."
"These students identified an issue that could improve our community and took action as concerned citizens to bring it to our attention," said Michael Riordan, Director of Municipal Development.  "Now, what was once just a bus stop sign on the shoulder of the road is now a fully-accessible ADA shelter with shade."
Since 2009, the Municipal Development and Transit Departments have worked together with local contractors to install these locally-fabricated, ARRA shelters (for the American Recovery and Reinvestment Act of 2009) throughout the metropolitan area.  At an average cost of $22,900 each, they are not only keeping bus riders out of the elements, but have also helped create or sustain over a hundred job-months in Albuquerque.  Indirectly, the shelters may have also accounted for over a hundred other jobs.
The City actually acquired 419 shelters using Federal Stimulus money.  The Transit Department plans to use the rest of them in other projects, including the construction of the upcoming Montaño Transit Center on Montaño between Edith and 2nd and for shelter installations on 8th Street.
Director of Municipal Development Michael Riordan and ABQ RIDE Director Bruce Rizzieri at shelter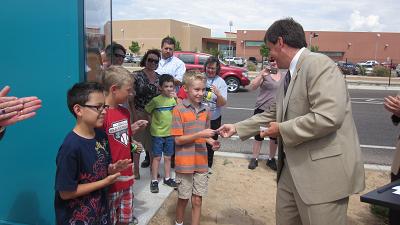 Commemorative medal given to Tierra Antigua 4th grader Zander Beatty, part of a class that wrote letters asking for the shelter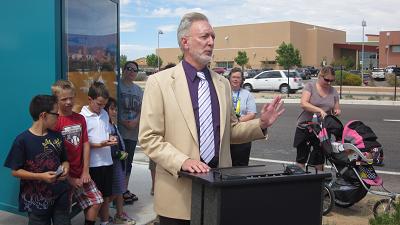 ABQ RIDE Director Bruce Rizzieri
Director Rizzieri, Tierra Antigua 4th graders, Principal Robert Abney and Director Riordan cut ribbon to new shelter.