Near North Valley SDP
Contact: Petra Morris, 505-924-3897
In 2005, City Councilor Debbie O'Malley launched the community planning effort for the Near North Valley Sector Development Plan (NNV SDP).
Participation and input from the Near North Valley neighborhood is encouraged and welcomed in this community driven planning effort.
Contact
For more information, please contact Petra Morris at 505-924-3897 in Long Range Planning or Andrew Webb at 505-768-3161 in City Council Services.
Updates
In December 2011 planning staff and the steering committee returned to work on the Near North Valley Sector Development Plan, after hiatus in 2006 (in order to focus on a different planning process) . Planning staff and the steering committee have been meeting regularly for a number of months. On January 23, 2013, Resolution-12-114 was adopted; this established the boundary for the Near North Valley Sector Development Plan and sets an estimated timeline for public review and approval. A community meeting to present the revised draft is anticipated for Spring 2013.
Project Boundary: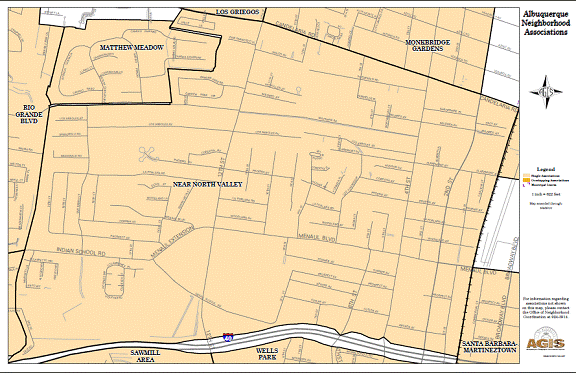 The plan area is bounded by Candelaria Rd. on the North; Railroad track on the East; I-40 on the South; Griegos lateral on the West.
Purpose
The Sector Plan's goal is to balance the various interests in the neighborhood to enhance the positive aspects of the area, and preserve its character, while revitalizing the retail sector and mitigating the impacts of industrial operations. In addition, the Plan seeks ways to address non-conforming uses within the plan area. The plan envisions the Near North Valley as a safe area for walking, biking, transit and horse riding, through a connected network of trails along ditches, sidewalks, bike lanes and streets.
Process
The NNV SDP began in August 2005, with a target Environmental Planning Commission hearing date of March 2007, and City Council introduction of May 2007. A draft of the Near North Valley Sector Development Plan was prepared in November 2006. However, the Near North Valley Steering Committee decided in 2006 to concentrate their efforts on the North Fourth Street Corridor Plan, part of which runs through the boundaries of the NNV SDP. The North Fourth Street Corridor Plan was adopted in March 2010. There was no activity on the plan from 2006, when a draft of the plan was to distributed to the NNV Steering Committee and the NNV Neighborhood Association Board, until December 2011.
In addition to the regular meetings of the NNV Steering Committee with planning staff, planning staff made a short presentation on the plan at the Near North Valley Neighborhood Association Annual meeting on Tuesday April 24, 2012, 6.30 p.m. at the Indian Pueblo Cultural Center, 2401 12th Street NW.