Information about City-organized basketball activities in Albuquerque.
Weather & Game Status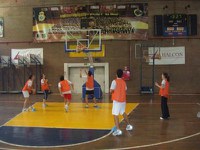 For the latest information about weather and games, call (505) 768-GAME.
Basketball Leagues
Important information and dates for Albuquerque basketball leagues.
2013-2014 League Play Info
By clicking on the link below, you will be taken to the Parks and Recreation "Sports Section" league play website.  Explore the site and discover essential information provided to league play teams; it is easy to check team schedules, league schedules, standings, and more!  Check the latest news tab for information on canceled games, rain outs, and reschedules. We encourage players to revisit the site frequently for the latest information about your league play season. Enjoy!
Click here for schedules, scores and standings!

Basketball 2014
Registration: August 25, 2014 - September 26, 2014
Roster Due: October 29, 2014
Season: November 5, 2014 - March 13, 2014
Length of Season: Twelve (12) regular season games, post season single elimination
Schedules Ready: October 29, 2014
Roster Limit: Unlimited
Entry Fee: $462.00 (Price subject to change)
Days of Play: Tuesday, Wednesday, and Thursday
Divisions: Mens: High, Medium and Low/Womens: Open/Accountant and Attorney
To register your team, contact us.
*Please note that all basketball teams must pay a yearly sanction fee. Sanction fee of $50.00*
Basketball Courts
View Albuquerque basketball court locations.
Roster Forms
Document Actions