Junior Golf Program
Start your golf story with your city courses.
For more information about these junior golf programs, contact the associated City of Albuquerque golf course.
Arroyo del Oso Golf Course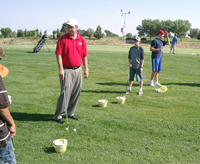 Arroyo del Oso: Close Attention
The Arroyo del Oso Junior Program runs every summer, offering small-size classes for close instruction.
Classes introduce youngsters the basics of golf, including game etiquette, set up, balance and swings.
Following completion of the class, students are encouraged to take discounted-price private lessons from golf professions at Arroyo del Oso.
---
Los Altos Golf Course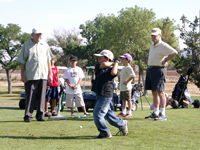 Los Altos: Success through Practice
PGA Pro Eddie Moya brings a simple teaching philosophy to junior golfers: Keep students interested.
Since 1968, Moya has helped youngsters see improvements in their golf swings on the course. Moya aims for progress and continued practice from his pupils.
---
Puerto del Sol Golf Course
Puerto del Sol
Puerto del Sol introduces young golfers the basics is focused lessons.
Students are introduced to proper club grip, stance and other elements of golf through direct instruction and age-appropriate games.
Lessons are tailored to the individual student's level of need.
UPDATED 2017 INFORMATION:
Enrollment is open to students ages 5 through 14.
Classes introduce youngsters the basics of golf, including game etiquette, set up, balance and swings.
Classes are taught by experienced coaches and some local youth talent. PGA Professional Ron Allen runs the program. Allen is a 5 time PDSGA Club Champion and 2 Time State Seniors Amateur Champion. He has also coached high school golf for over 20 years.
Schedule: Tuesdays and Thursdays in June and July 2017. Program starts June 6th. Runs 8:30 am to 11:30 am each day.
$100 per week. (Includes instruction, materials, practice balls, equipment if needed and lunch). Returning students pay discounted rate of $85. Discounts also available for siblings.
Sign up weekly or call to reserve your spot.
265-5636 - Puerto del Sol
507-5039 - PGA Professional Ron Allen
Private lessons for juniors are available throughout the year, not just during the summer months.