Softball
Information about City-organized softball activities in Albuquerque.
Weather & Game Status
For the latest information about weather and games, call (505) 768-GAME.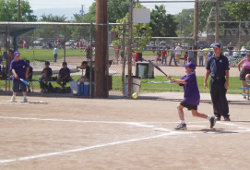 OFFICIALS NEEDED! OFFICIALS NEEDED! OFFICIALS NEEDED!!!!!!!!!!!!!!!!!
Need extra money? Become an official! Softball officials needed: Spring, Summer, Fall, leagues
 Evening and weekends available
Must be at least 18 yrs. old and USSSA sanction required.
For more information please call 224-6682
Softball is a great way to exercise, enjoy the outdoors, make friends, and have fun.
Join a softball team today!
*Attention! The Sports office has moved*
New address: 7205 Constitution NE
New phone: (505) 224-6682
Softball Leagues
Important information and dates for Albuquerque softball leagues.
*All teams must pay a sanction fee of $50.00*
To register your team, contact us.
Softball Fields
View Albuquerque softball field locations.
Forms
2016 Season:
SPRING SOFTBALL- View Registration Form

| | |
| --- | --- |
| Registration | January 18 – February 19 |
| Roster Due | March 2 |
| Season | March 13 – April 17 |
| Length of Season | Eight (8) Games |
| Schedule Ready | March 9 |
| Entry Fee | $396.00 |
Days of Play (Divisions):
Monday - Friday:Men's, Women's, Coed
Sunday - Coed
SUMMER SOFTBALL
| | |
| --- | --- |
| Registration | February 22 – March 25 |
| Roster Due | April 13 |
| Season | April 24 – September 9 |
| Length of Season | Sixteen (16) Games |
| Schedule Ready | April 20 |
| Entry Fee | $792.00 |
Days of Play (Divisions):
Monday - Friday:Men's, Women's, Coed
Sunday - Coed
FALL SOFTBALL
| | |
| --- | --- |
| Registration | July 11 – August 12 |
| Roster Due | August 31 |
| Season | September 16 – October 23 |
| Length of Season | Ten (10) Games |
| Schedule Ready | September 8 |
| Entry Fee | $495.00 |
Days of Play (Divisions):
Monday - Friday:Men's, Women's, Coed
Sunday - Coed