Petroglyph National Monument
Looking towards Albuquerque's West Mesa, one can't help noticing the area's distinctive geology and topography. A closer look reveals many clues of an active cultural and geologic history.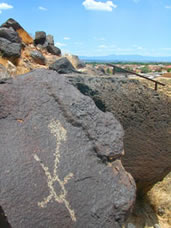 Five dormant volcanic cones and a seventeen-mile basalt escarpment show how a series of eruptions over 100,000 years ago formed the West Mesa. The basalt boulders that tumbled down to the escarpment's edge later provided an ideal material for carving Puebloan and Spanish petroglyphs. Changing hands over the centuries, this land is now part of the Open Space network.
Established in 1990, Petroglyph National Monument is unique not only in its history and landscape, but in its management as well. This 7,244-acre monument relies on a partnership between the National Park Service and the City of Albuquerque Open Space Division to protect its nearly 20,000 petroglyphs and provide recreational and educational opportunities to the public.
When visiting Petroglyph National Monument, first visit the National Park Service Las Imagines Visitor Center.
Access: located off Unser Blvd. on Western Trail Road (three miles north of I-40). The Visitor Center is a great place to begin your adventure at Petroglyph National Monument. The knowledgeable staff at the Center orients visitors to the history and recreation opportunities in the area.
Hours of Operation
Year round: 8:00 AM - 5:00 PM
Access
Located off Unser Blvd. on Western Trail Road (three miles north of I-40)
More Information
Get more information about the following areas within the Petroglyph National Monument: