Mayor Richard J. Berry
Information about Mayor Richard J. Berry.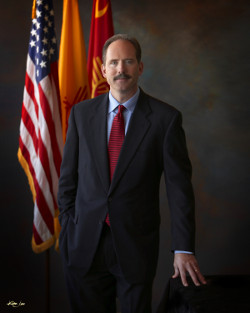 Communicate with the Mayor
Have an issue? Let Mayor Berry know.
About Mayor Berry
Mayor Richard J. Berry was sworn into office on December 1st, 2009. Prior to serving as Albuquerque's chief executive officer, he was twice elected to the New Mexico Legislature.
Mayor Berry is also an accomplished business entrepreneur with over two decades of experience in New Mexico and throughout the Southwest United States. He earned his degree in finance and administration at the University of New Mexico and was a letterman on the Lobo track and field team, specializing in the decathlon.
Mayor Berry's Accomplishments
Since his election in late 2009, Mayor Berry has successfully worked to drop the crime rate in Albuquerque to some of the lowest levels in 20 years and has brought the City to the national forefront for transparency and accountability.
He has cut the size of local Government while keeping city employees on the job and services to the community intact. He has accomplished this without raising taxes and has consistently worked to provide value for taxpayers.
---
Justice Department - Albuquerque Police Documents
Read documents released Oct. 31, 2014, about the U.S. Justice Department agreement with the City of Albuquerque.
---
Launch to Learn
To reduce summer learning loss, we encourage students and families in summer learning through Launch to Learn.
Convention & Visitors Bureau
Read the Albuquerque Convention and Visitors Bureau business report.
---
Recent Images
News from the Mayor's Office
Volunteer of the Month: Charlotte Elliott
Friday's Heroes: Albuquerque Police Department's Patricia Savage and Chaplin Laurie Wells
Employee of the Week: Mayor's Office, Department of Constituent Service Employee Stephanie Eker