50-Mile Activity Loop
Albuquerque's proposed 50-mile bicycling, running and walking loop around the city.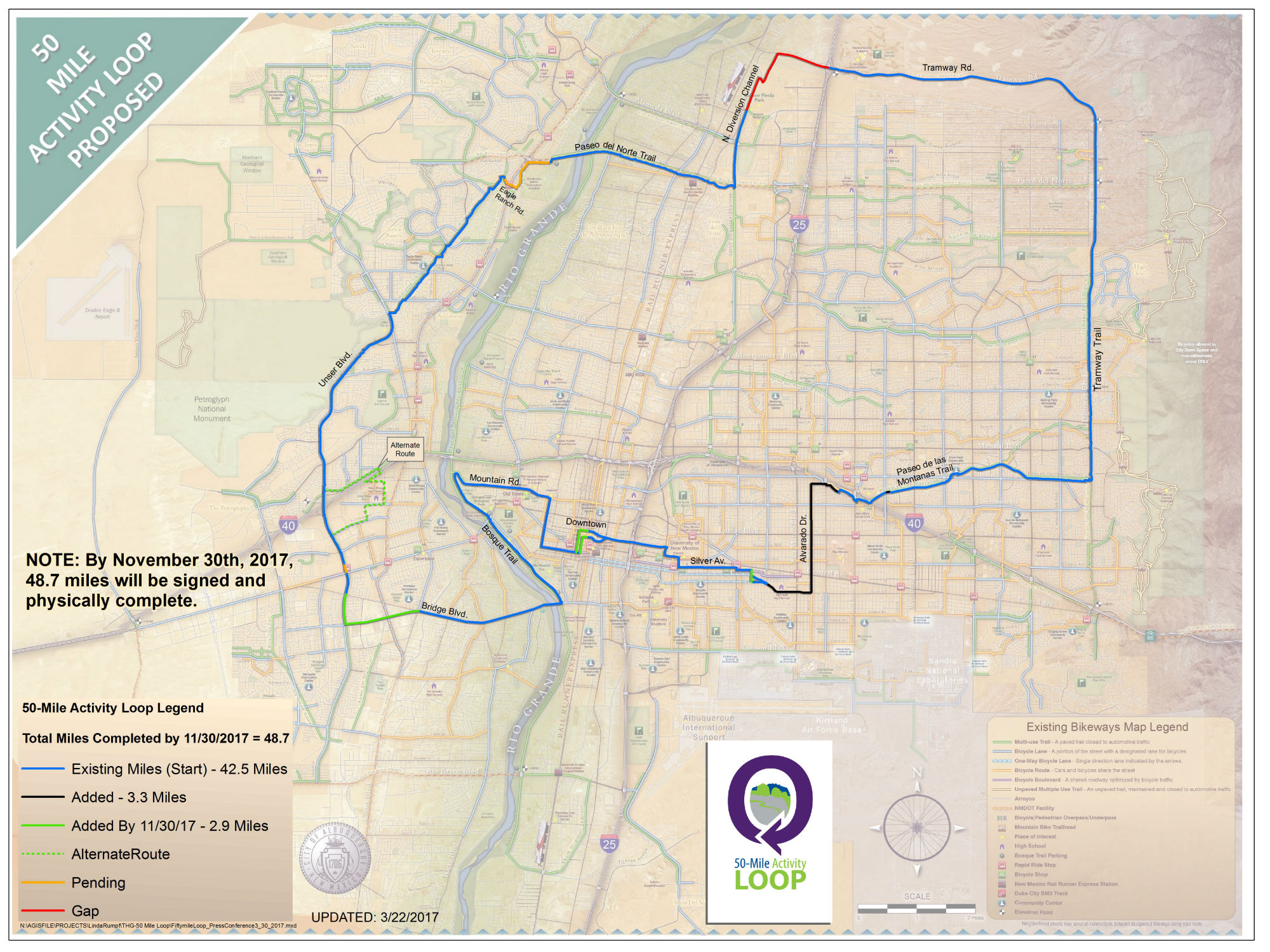 View a larger image of the Proposed 50 Mile Activity Loop.
Overview
The 50-Mile Activity Loop is the City of Albuquerque's proposed 50-mile, multi-use trail and bikeway facility that aims to fill the gaps in our existing trails and bikeways facilities to create a bicycling, running and walking loop around the city. The project benefits quality of life and health and wellness for locals with opportunities for economic development, tourism and possible events, such as a 50-mile or Century ride and charity walks.
The City worked with community leaders, citizen groups and local engineering firm Wilson & Company to develop the 50-Mile Activity Loop Plan, which was completed in September of 2013.
View the Executive Summary. (13 pages)
View the full plan (142 pages)
"The 50-Mile Loop will be a great asset for Albuquerque, to promote health and recreation and a destination for tourists." - Mayor Richard J. Berry
The Route
The map above shows red sections (gaps to fill) that will join with the blue sections (existing bikeways and trail facilities) to complete the 50-Mile Activity Loop. The map also shows mini-loops that can provide connections to the Loop, which would be a future project. View the interactive map.
Project Status
We're now implementing the route established by the 50-Mile Activity Loop Plan. A good portion of the Loop is already in place (shown in blue). The short-term goal is to fill in gaps in bikeways and trail system and later add amenities, such as benches, shade structures, water fountains, landscaping, pocket parks, and wayfinding signs.
50-Mile Activity Loop Update
Lots of exciting progress has been made and several new projects are in the pipeline for the 50-Mile Activity Loop project. The first phase of construction, which connects connects Uptown to Zuni Road via multi-use trails and features shared lane bicycle markings (sharrows), the city's first HAWK Signal and many other improvements.
View more about 50-Mile Activity Loop projects.
Learn More
For more information about this and other ABQ the Plan projects, please email at [email protected] or telephone: (505) 924-3860.
There are currently no items in this folder.