App Contest Winners Revealed
Winners of the Mayor's mobile app contest announced March 5, 2013. New apps expected to save City dollars.
Albuquerque- The city has gone "smart" by capitalizing on the intellectual capabilities of local residents.
This brain power led to the development of three new apps; each app captures either city activities, facilities, and/or events, and relays this information to the public with the touch or swipe of a button.
Competition History
In April 2012, when Mayor Richard J. Berry kicked off the app competition, the administration asked for public input on what kind of apps would be helpful. From that information, three categories were chosen:
Cultural Resources
Business in the City, and
Outdoor Fun & Healthy Living
Two additional special categories were also chosen: Most Innovative; and Educational. The educational component was created to incentivize participation from students, staff, or faculty from the education sector.
Contest Results
Fifteen submissions were received, of those, these three applications rose to the top.
"This is a great example of how we can encourage and cultivate innovation and creativity, here in the City of Albuquerque, to help provide better services to the community," said Mayor Berry.
Three groups won the competition and split the $30,000 of total prize money:
Most Innovative: City of Albuquerque Cultural Resources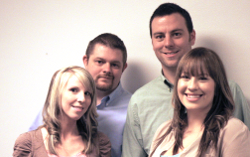 From left: Celina Bennett Steele, Steven Steele, Sean Gaffney, Brenna Gaffney.
Name: Sean Gaffney, Brenna Gaffney, Steven Steele, Celina Bennett-Steele
Application: City Amenities and Features
What it does: Are you new to Albuquerque? Want to know what is nearby? Navigate to the point to help find Libraries, City Art, City Entertainment, Events, Parks and Wifi Hotspots, etc.
Prize money: $8,000
---
Most Innovative: Doing Business in the City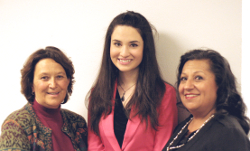 From left: Sue Jiron, Patrice Vigil, Joanna Salinas.
Name: SDI Apps – Sue Jiron CEO
Application: City Services
What it does: App provides user friendly access to CABQ up to date news and events. Users can access CABQ business, recreation, cultural, and social media information in an easy to use and interactive manner.
Prize money: $8,000 + $3,000 special innovation award = $11,000
---
Most Innovative: Outdoor Fun & Healthy Living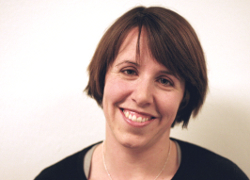 Kim Hagen
Name: Kim Hagen
Application: ABQ Parks Info
What it does: This application is intended to make finding parks easy for residents and visitors. It is designed for mobile web browsers but will also work well on traditional web browsers. The visitor can choose which feature they are looking for and the matching parks will be displayed on the map, along with further park details and a link to get driving directions to the park.
Prize money: $8,000 + $3,000 Education award = $11,000
City Savings
These apps are expected to help decrease the costs associated with operating the city 311 center.