Music
Information about the City of Albuquerque's Music Office.
Welcome to listen!ABQ
The Albuquerque Music Office is a division of the City of Albuquerque Economic Development Department.
Strengthening the local music industry by bringing together and promoting our diverse music community will have a positive impact on the business community at large.
Our city possesses a compelling local musician and performance community
Beautiful, acoustically ideal venues in a variety of sizes
A vibrant and growing Downtown scene
Independent record labels & manufacturing facilities
Local and regional music publications
A variety of music festivals and series in an inspiring geographical setting
Latest News & Events
Music for the week of January 25th-31st
Friday, January 29th, 2016


The Chris Cordova Jazz Trio at the Placitas Café, 221 State Highway, Suite D, Placitas, NM. 6:00 PM Come down to the Placitas Cafe for some cool smooth jazz and great food. 
The Blunn's Live At Rio Bravo Brewing Company 1912 2nd Street NW, Albuquerque, NM 4:30 PM to 6:30 PM. Listen to live, alternative, blues, jazz, rock, and indie selections from The Blunns, (Janelle and Bob Blunn), while enjoying great Rio Bravo Brewing's beers and wines at happy hour pricing!
Bobcats Trio at Sheraton Uptown Albuquerque 2600 Louisiana Blvd. NE 6:00 PM A great place to relax. Dan Dowling on guitar and vocals, Bob Gusch on woodwinds featuring the clarinet, and John Griffin on bass. Swing, jazz, standards, blues, and more. Free 
Saturday, January 30, 2016

Stratus Phear at Sidelines Sports Bar and Grill 9211 Coors Blvd. NW Albuquerque, NM 9:00 PM We'd love to see you at their Sidelines show this Saturday from 9PM - 1AM! Sidelines provides great food and beverages to go along with some great rock & roll music for your Saturday night.
Saudade Plays Pueblo Harvest Cafe - Party On the Patio 2401 12th Street Northwest, Albuquerque, NM 6:00 PM to 9:30 PM Saudade features Bob Gusch on woodwinds, Chris Livingston on piano, Micky Patten on bass, Jefferson Voorhees on drums, and Debo Orlofsky on vocals. Classic bossa nova and contemporary Brazilian jazz with beautiful music, refreshing libations, and all-you-can-eat pizza from the horno!
Open Mic Night at Cafe Bella Coffee 2115 Golf Course Road, Rio Rancho hosted by MC Michael Wright. This series all about diversity and artistic expression of music, poetry & art on the open mic. This series will be moving to the second Saturday beginning in February! Did we mention our MC has obtained prizes for participants?! Registration for the night is performed on site beginning at 6:30pm show starts at 7pm and goes till 9. Bring your wit and your talent to south Rio Rancho and experience
CD Release for Duke City Riots at Burt's Tiki Lounge, 313 Gold SW, Albuquerque, NM and special guests,

Dirty Brown Jug Band and Innastate . A great night of Indie Rock music and fun!
Smooth Saturdays at the Embassy Suites, 1000 Woodward Place NE (@ Lomas) Albuquerque, NM present award winning, singer, songwriter and recording artist: KADY BOW Show starts at 7:00 PM.
Gallows Bound with special guests Youngsville, Jessie Deluxe and Throw the Temple at Low Spirits 2823 2nd NW, Albuquerque, NM 8:30 PM. This night is going to ROCKKKKK!!!!!!

Music for the week of January 18th-24th, 2016
Ken Valdez and Alex Maryol @ Low Spirits, 2823 Second Street NW, Albuquerque.Monday, January 18th 9:00 PM. Blues. $10.00 cover.
Alex Maryol @ Canteen Brewhouse, 2381 Aztec NE, Albuquerque. Tuesday, January 19th 6-9 PM Blues.
Open Mic @ Brickyard Pizza hoted by Chris Dracup. Every Tuesday night 9:00 PM til Midnight. One of Albuquerque's most popular open mic events. No cover. 2216 Central Avenue SE, Albuquerque.
Strange Magic, Broken Gold, Personals @ Low Spirits 2823 Second Street NW, Albuquerque. Wednesday, January 20th 9:00 PM Indie Rock $5.00 cover.
Leftover soul - all vinyl soul dance party! At Sister 407 Central Avenue NW, Albuquerque January 20th, 2016 @ 9:00 PM Soul. Free

Ian Moore & the Lossy Coils @ Low Spirits, 2823 Second Street NW, Albuquerque. Thursday, January 21, 9:00 PM Rock. $8.00 cover.
AL SCORCH / SALTINE RAMBLERS At Sister, 407 Central Avenue NW, Albuquerque JANUARY 21, 2016 9:00 PM - 1:00 AM      Price: $5 Newgrass
Faith, Hope and Jazz f/ Vocalist Diane Richardson @ Monte Vista Fire Station, 3201 Central NE, Albuquerque, Thursday Jan 21, 2016. A welcome addition to the Albuquerque jazz scene!  Diane is joined by Milo Jaramillo on bass and John Bartlit on drums.  Jazz
Def-i ALBUM RELEASE PARTY Feat. Innastate / Definition Rare / Äkword Actwrite At Sister, 407 Central Avenue NW, Albuquerque Friday, JANUARY 22, 2016 9:00 PM Price: $7
Clark Andrew Libby @ Distillery 365, 2921 Stanford NE, Albuquerque 7-9 PM No cover Acoustic Pop
Friday night mics hosted by casual-one @ Low Spirits, 2823 Second Street NW, * shadowz of deception * ya boi biz * envee tha queen * k. Benally + letsjusb * i.q. * g-l.i.f.e * sublmnl rnsons * auxaudio * paycheck stubbz * danyel thomas * og willikers * k.i.r ent. * kid flow * sac one @ low spirits9:00 pm rap & hip hop. $5.00 & $10.00 cover.
Willie Smith @ Café Bella Coffeehouse 2115 Golf Course Road, Rio Rancho, Friday, January 22nd.. A great night of local live music and street tacos featuring singer songwriter Willie Smith. Amazing vocals. Show starts at 7pm till 9pm. Espresso Bar and full menu available.
2nd Annual Pajammy Jam At Sister 407 Central NW, Albuquerque, Saturday, JANUARY 23, 2016 9:00 PM. It's that time once again! 2nd Annual Pajama Jammy Jam at Sister. All proceeds going to the Christopher Robinson Scholarship Fund.
Kristina Jacobsen's CD release party, Three Roses, Saturday, January. 23 at The Albuquerque Press Club, 201 Highland Park Circle Albuquerque starting at 7:30 PM. Jacobsen's debut CD. The program also features Meridith Wilder, Alex McMahon and Greg Daigle
Gustavo Pimentel at the Blue Lily Atelier, 3209 Silver NE in Nob Hill, Albuquerque Sunday January 24th 5-7 pm. Part of the Pop up dinner series. For Reservations contact http://www.bluelilyatelier.com/
Music for the week of January 11-17th 2016

Dave Rawlings Machine in concert. National Hispanic Cultural Center, 1701 Fourth Street NW, 8:00-10:00 PM.
Great Americana music from Gillian Welch and Dave Rawlings. Their latest CD is entitled "Nashville Obsolete". $35.00 advance, $37.00 at the door.

Rudy Boy Jaramillo solo performance, Tuesday, January 12th, 7-10 PM. Monte Vista Fire Station 3201 Central Avenue NE, Albuquerque.

Hot Blues, cold brews and great food. It's no experiment this time. The theory has been proven. Rudy Boy Rocks.

Burt's Tiki Lounge Week of Awesome. Burt's Tiki Lounge 313 Gold Avenue SE, Albuquerque. Begins every night at 8:00 PM

.


JAN.13th: FRESH 2 DEF w/ PHATJ, GREGGO5MILL & CAID

hosted by: WAE FONKEY,

KRON JEREMY & AUX.


JAN.14th: SOULSCAPES w/BEN BITTEN,

CONSCIOUS KALLING, & MANDLE BOT
JAN.15th: SILENT CRUSH, TUMBLEWEED, BEACH, THE COOL

& ARROWS
JAN.16th: HIGHER THAN LOW IV.
The Blunns live at the Rio Bravo Brewing Company, 1912 Second Street NW, Albuquerque, 4:30-6:30 PM
Listen to live, alternative, blues, jazz, rock, and indie selections from acoustic duo The Blunns, (Janelle and Bob Blunn), while enjoying great Rio Bravo Brewing's beers and wines at happy hour pricing! In addition to the great beverages in the beer garden, food trucks will be serving great local fare for your evening dining enjoyment. 
www.reverbnation.com/theblunns
Stratus Phear at the Indian Pueblo Cultural Center Patio, 2401 12th Street NW, Albuquerque, 6:00-9:30 PM Stratus Phear would love to see you for a Party On The Patio at the Indian Pueblo Cultural Center! $10 gets you all the horno baked pizza you can eat along with some awesome music! The patio is enclosed and heated for your comfort during the winter months.Stratus Phear always delivers a fantastic performance of danceable classic rock favorites!
http://www.facebook.com/events/1677224542491033/ 
http://www.stratusphear.com/
Art, Blues & Spirits, Friday, January 15th 7:00-10:00 PM, Distillery 365, 2921 Stanford Drive, NE Albuquerque. 

Specialty Spirits,Music by DiSanti Nava and Artwork by Jasson Barnes.

Jose Antonio Ponce at Solid Grounds Coffeehouse on the campus of St. Stephens United Methodist Church 4601 Juan Tabo. Doors open at 6:30, music begins at 7:00. This long running music series features Albuquerque author, actor and songwriter Jose Antonio Ponce.

Albuquerque

Songwriter Cooperative bi-weekly meeting, Sunday, January 17th at the New Mexico Jazz Workshop, 5500 Lomas NE from 1-3 PM.

Local songwriters share their latest compositions fro review by a peer group of fellow songwriters. Inspiring and entertaining. Open to everyone.
Holiday Film, Music & Fashion Mixer
The Albuquerque Film
& Music Experience and The New Mexico Music Awards welcome New Mexico Fashion Week into the fold at our Industry Mixer on Sunday, December 13th from 3:00-6:00 PM at Tractor Brewing, 1800 Fourth Street in Albuquerque.


New Mexico Films, New Mexico Music, New Mexico Fashion.

Come out Sunday December 13th to the Tractor Brewing- Wells Park for an afternoon of Holiday fun.
Come network and exchange cards and project info.

 
Free entry, cash bar & table service.
Learn about The Albuquerque Film & Music Experience & The New Mexico Music Awards, their partnership and workshop programs, and about New Mexico Fashion Week.
Since 2014 AFME & NMMA, through a series of workshops and mixers have helped New Mexico Filmmakers lo
cate and acquire the music created by New Mexico Musicians for their films. This is a valuable networking opportunity. Now we're adding the opportunity for fashion designers to creat these connections as well.
We will have fashion designers showing from NMFW2016, New Mexico Muusic Award winner Eryn Bent and guitarist Matthew Andre performing and AFME screening shorts.

Sponsored by listen!ABQ, the Albuquerque Film & Music Experience, NM Fashion Week and the New Mexico Music Awards.
Second Saturday Community Coffeehouse

Second Saturday Community Coffeehouse Open Mic at the Unitarian Universalist Church, 1 Deanna Lane in Edgewood on Saturday, December 12th, 6:00 PM-9:30 PM is a chance for musicians (and ot

her performers) to show off their stuff and give people a taste of your style.  Each performer gets up to 15 minutes or three songs to perform. There are all levels of performance, from professionals to first timers, from geezers to
young'uns, and all are welcome. Sign up on site at the Open Mic starting at 6 pm; no preregistration required. Get th
ere early to get your slot, because we will still end around 9:30.  We don't encourage singing with a prerecorded song on a machine, but do encourage you to find someone to accompa
ny you. Live music is what we're about. If you need some ideas let us know – we might be able to help.
http://www.unityemtns.org/coffeehouse1.html
Music in Corrales

The
Corrales Bosque Gallery
and
Music in Corrales
have joined together to bring a unique holiday shopping experience to Corrales!  The
Holiday Pop-up Art Show
will begin Saturday, December 12
th
at 5:00pm at the Old San Ysidro Church, 966 Old Church Road in Corrales prior to the Michael Anthony and First Take Trio concert which begins at 7:30pm.  The Show is free and open to all, regardless of concert attendance.
Corrales Bosque Gallery artists participating in the show include:
v
Andy Goldschmidt - ceramics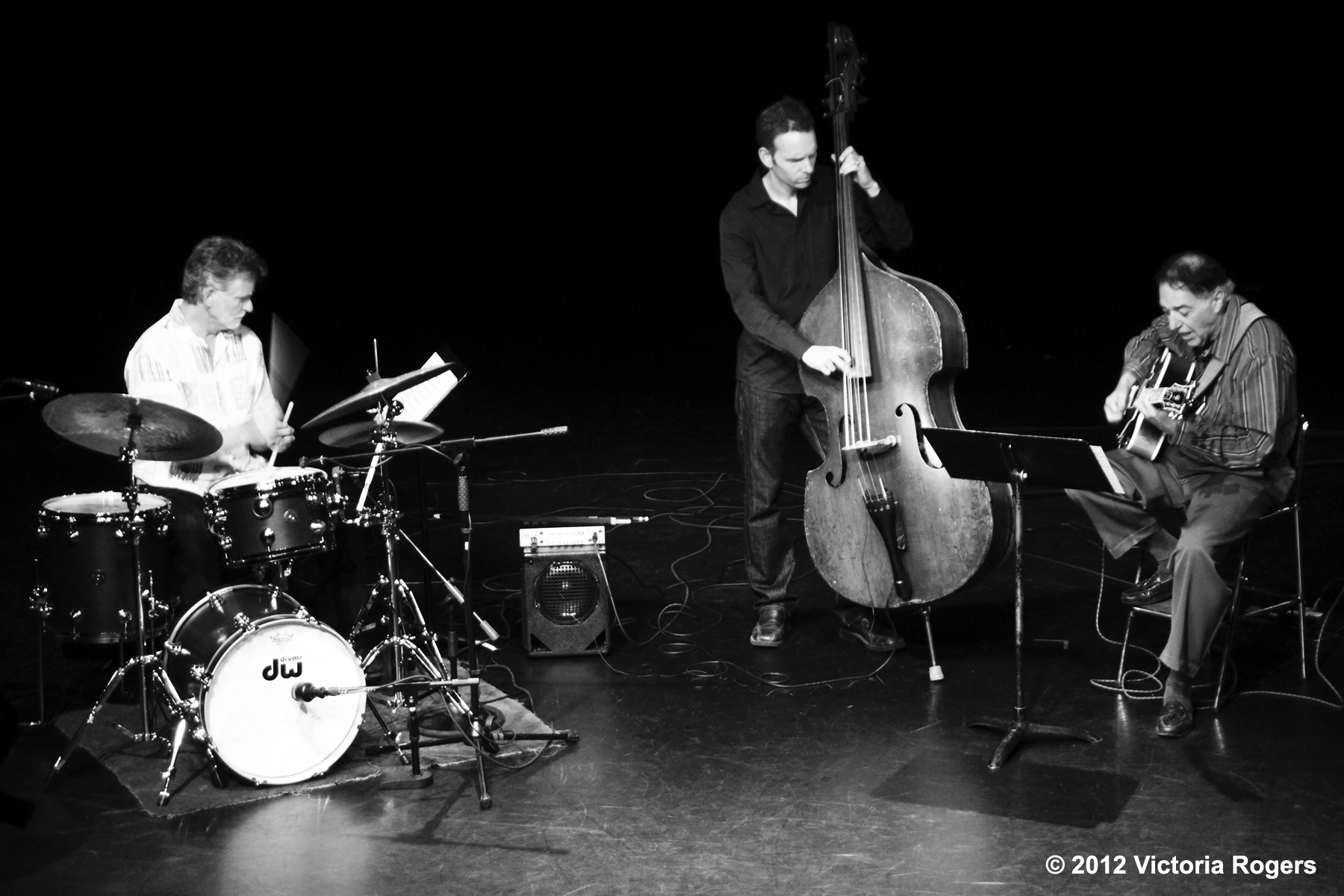 v
Juan Wijngaard- oils and etching prints
v
Diane Cutter - painting
v
Dianna Shomaker - encaustic painting
v
Barbara Clark - landscape painting
v
Judith Young - jewelry 
v
Melba Bushmire - still lifes and landscape painting
v
Stephen Feher - metal sculpture 
v
Patrice Carbaugh - jewelry and glass pieces

New Music Songwriters' Showcase
Saturday, December 5th, 2-4 PM at Grandma's Music & Sound 9310 Coors Blvd NW in Albuquerque
Twenty-four songwriters bring their latest compositions to an acoustic performance. This event is open to the public and attendees will have the opportunity to win a Yamaha guitar.

Hillary Smith and Chris Dracup

Friday, November 21st, 6:00-9:00 PM, Club Rio Rancho, 500 Country Club Drive, Rio Rancho, NM
The reinging diva of song and her favorite bluesman bring the best blues, soul and funk. Seating is limited. No cover for this event

Bobcats Trio
Saturday, November 22 at 7:30 PM, Yannis Lemoni Lounge 3109 Central NW in Nob Hill.
Great Jazz from Bob Gusch, Dan Dowling and John Griffin.
The Harlem Quartet
Sunday, November 22nd, 2015 3 P.M. Keller Hall, The University of New Mexico

The HARLEM QUARTET, praised for its "panache" by The New York Times, is "bringing a new attitude to classical music, one that is fresh, bracing and intelligent," says the Cincinnati Enquirer. The quartet's mission is to advance diversity in classical music, engaging young and new audiences through the discovery and presentation of varied repertoire that includes works by minority composers.

PETER MULVEY
Saturday November 21 at the Old San Ysidro Church 966 Old Church Road Corrales Doors at 7 Music at 7:30

"His voice feels like fine old leather, and his guitar sounds like it's on steroids... a superb technician." The Boston Globe

He has been the street-singing kid in Dublin, the man fronting the storming electric band, the spoken-word craftsman, the Tin Pan Alley delver bringing his music to audiences from Fairbanks to Bilbao. In clubs, theaters, coffeeshops, the Kennedy Center, and old barns Mulvey continues to hone his sound with grit and warmth. In Mulvey's hands Duke Ellington and Thelonious Monk are presumed colleagues of Tom Waits and Jolie Holland. Bill Frisell and Willie Nelson are obiously in the same wheelhouse. Bobby Charles is still alive and having coffee with a bemused Leonard Cohen somewhere in the Ninth Ward.

or at Frame n Art on Corrales Road just south of Meadowlark
4th Annual Howlin' Holiday Jam-A night of Soul, Funk, Blues, and Rock & Roll
Friday, December 18th, Sunshine Theater 120 Central Ave SW Albuquerque, NM 87102
This is not your average holiday concert! It's a jam session with soul, funk, blues, and Rock & Roll brought to you by some of Albuquerque's finest plus a few out of town guests. The concert features Solo Loop Bass Madness - James Whinton
and Bring on the Fund; Artha Meadors with drummer Ferris Senter; NYC's Grammy Nominated Bluesman Junior Mack, Albuquerque's Chris Dracup, and young gun Kevin Cummings from The Noms.  LA's Soul Singer Niki J. Crawford and Albuq
uerque's  Hillary Smith (Friday only) are the featured vocalists.  Kofi Burbridge and Kebbi "The Wolf" Williams round out the show.
Doors: 7:00 pm | Show: 8:00 pm. Tickets start at $15.00
Cali Shaw Band CD & Video Release Party
Friday, November 13th at 8:00 PM at Sister Bar, 407 Central Avenue in Albuquerque.
This event  features the Cali Shaw Band, Le Chat Lunatique, Lilah Rose and DJ Halcyon and is hosted by Leah Black. This is a 21+ event. Tickets are available at www.holdmyticket.com
Second Saturday Community Coffeehouse
Saturday, November 14th, 6:00PM, 1 Deanna Lane, Edgewood, NM. Sponsored by listen!ABQ and the New Mexico Music Awards.  This month the program features the  acoustic-electric duo Boulavard Lane (Angela Andazola & Bill Royal) and singer/songwriter Cassette. The event is free to the public.
Dirty Kid Discount at the Launchpad

Don't miss this killer band at the Launchpad 618 Central SW in Albuquerque  next Monday,
November 16th from 7:00-11:00PM. Tickets available at www.launchpadrocks.com

November Listening Room/Songwriter Showcase
Original music presented in an intimate, acoustic environment tomorrow night, November 10th from 7:00-8:30 PM at Winning Coffee, 111 Harvard Drive SE, Albuquerque. Hosted by Kristina Jacobsen and featuring songwriters Wyatt Granger and Jaime Rodriguez.

Call for Artists
Perform during the New Mexico Jazz Workshop's 2016 season!
The New Mexico Jazz Workshop employs more local musicians than any other non-profit in New Mexico. This is your opportunity to perform at one of the many programs during the 2016 season including April 2016's Jazz Appreciation Month (JAM) programs, the summer Jazz, Salsa and Blues under the Sta
rs concert series, the Madrid Blues Festival, the New Mexico Jazz & Wine Festival  and other NMJW 40th Anniversary programs. Looking for Jazz, Blues and Salas bands at this time in a variety of band configurations including solos, duos, trios all the way up to big bands and orchestras. Deadline to apply is December15th, 2015. Apply online at nmjazz.org/perform-1.aspx

Lyle Lovette & John Hiatt
Amp Concerts present Lyle Lovett & John Hiatt in concert at the Kiva Auditorium in Albuquuerque.
The concert is a benefit for the Dual Language Educators of New Mexico Teacher Scholarships. Grammy winning singer songwriters Lyle Lovett and John Hiatt share an evening of acoustic music. Anything can happen and probably will. Tickets available online at https://holdmyticket.com/checkout/event/209251
Southwest Baconfest-Bacon, Beer & Blues

Get your bacon on this Saturday, Nov. 7 from 10 a.m. to 5 p.m. at Balloon Fiesta Park in Albuquerque. Sample over 100 bacon dishes by 50 chefs!
Compete in the bacon eating contest, show off your HOG (Harley), express your bacon love with bacon poetry and sample beer from one of 15 breweries. Enjoy music by Hillary Smith and Soul Kitchen, Alex Maryol, Bosque Blues and Raven and theSweet Potato Pie Band . Tickets available at www.southwestbaconfest.com/ticketing-2015/
The New Mexico Jazz Workshop presents Music a la' Mode!
(An integrated arts day camp for kids pre-K through 5th grade)
While you go to work on Veterans' Day on Nov. 11, your children should be enjoying Music a la' Mode day camp.
Activities will connect kids with the excitement of Life on the Rio Grande.
Wednesday, Nov. 11 11 a.m. to 3 p.m.
There is a fee for the class. Sign up online at http://www.nmjazz.org/music-a-la-mode.aspx or call 505-255-9798 ext. 3. Reservations required. First come, first served.
The Fredrick-Breuer Jazz Orchestra

Beginning Tuesday, November 20th, The HQue Club at the Hyatt Regency Hotel, 330 Tijeras Avenue, NW in Albuquerque is proud to present a weekly program featuring the Jordan Fredrikh-Matt Breuer Jazz Orchestra. This nineteen piece ensemble brings you the iconic music of Count Basie, Duke Ellington, Quincy Jones, Glen Miller, Maynard Ferguson and features modern arrangements by Brent Walltraub, Alan Baylock and more.
This event is free and open to all ages and includes a full bar and menu as well. Free parking in the Hyatt garage off of Copper Avenue. Reservations are recommended. Call 505-843-2681 to reserve your table today.