Birds return to Mexican soil for the first time in 40 years.
Socorro dove. Photo by ABQ BioPark.
September 12, 2013
For the first time in 40 years, the critically-endangered Socorro dove is nesting in Mexico, its native country. The ABQ BioPark has played a key role in the international effort to conserve this rare bird. This spring, six Socorro doves moved from Albuquerque to Africam Safari, a zoo southeast of Mexico City. The species was native to Socorro Island, which is off the west coast of Mexico, but was declared extinct from the wild in the early 1980s.
Africam Safari hosted an official ceremony last week to announce the return of Socorro doves to Mexico. The birds from Albuquerque have settled in successfully, and Mexican government officials and agencies celebrated, along with leaders from the Socorro Dove Project: Stefan Stadler, curator at the Frankfurt Zoo and manager of the international population of Socorro doves; Helen Horblit of The Island Endemics Foundation, a non-profit dedicated to Socorro dove conservation for the past 30 years; and Peter Shannon, curator of birds at ABQ BioPark.
"Moving birds to Mexico is an extremely significant step in the Socorro Dove Project," said Shannon. "But there is still much work to be done. This is an effort that will go on long after we are all gone. The generations that follow us will be the ones to finally see Socorro doves back on the island--flying again on their ancestral home."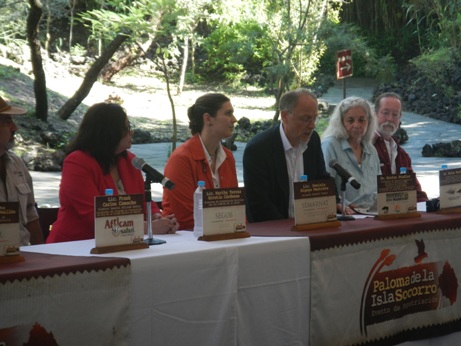 Peter Shannon (far right) and other project leaders at the Socorro dove celebration in Mexico.
The last confirmed sighting of a Socorro dove (Zenaida graysoni) in the wild was in 1972. Invasive species, like feral cats, contributed to the decline of wild populations. Today, facilities in Europe, the United States, and now Mexico breed Socorro doves in captivity. There are approximately 65 doves in Europe, 37 in the U.S. and 6 in Mexico.
BioPark staff has successfully raised 32 chicks since acquiring its first 12 Socorro doves in 2008. While working with the birds, Shannon and his team have learned and contributed a great deal of knowledge about management of the species. Six partner institutions in North America currently house Socorro doves and work together to maintain a healthy population.
Socorro doves are on exhibit in the Zoo's Tropical America building, which is open from 9 a.m. - 5 p.m. daily and included with regular admission. For more information, email [email protected] or dial 311 locally (505-768-2000).
Document Actions