Conservation lab successful in hatching tiny froglets.
Newly emerged Coqui froglet. Photo by Jennifer Stabile/ABQ BioPark
August 1, 2012
The Mona coqui, a critically endangered frog from Puerto Rico, has a new home at the ABQ BioPark Zoo. Ten frogs and a handful newly hatched froglets will live in the bio-secure Coqui Conservation Lab in the Zoo's new exhibit Amphibians: Life on a Limb. The ABQ BioPark houses the only captive population of this species and is thrilled by the early breeding successes.
"These frogs come from the wild and beautiful Mona Island, which is often compared to the Galápagos because of its isolation and fantastic endemic wildlife," said Jennifer Stabile, Senior Keeper of Herpetology. "Through the Proyecto Coqui conservation initiative, I joined a small research team from the University of Puerto Rico and traveled to the island to study the Mona coqui frog's habitat. We also collected five males and five females for ex-situ, or off-site, efforts to preserve the Mona coqui."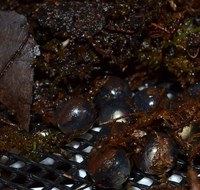 Froglets ready to hatch. Photo by Jennifer Stabile/ABQ BioPark
Since they arrived in Albuquerque, the frogs have successfully bred. Mona coqui are known as "direct-developers," bypassing the tadpole stage and hatching as fully-formed froglets. Five of the tiny froglets could sit on a dime. Keepers are offering the froglets a buffet of fruit flies, springtails, termites, newly-hatched beetles and other minute invertebrates.
"Our new Coqui Conservation Lab will significantly increase rearing and research opportunities for the Mona coqui," said Doug Hotle, BioPark Curator of Herpetology. "We look forward to giving Zoo guests a chance to see keepers at work inside the lab as part of the new amphibian exhibit that highlights both the beauty and fragility of this amazing group of animals."
The new exhibit, Amphibians: Life on a Limb, opened on Sunday, August 5, and is included with regular Zoo admission.  The exhibit kicks off the New Mexico BioPark Society's "Nurture Your Love of Nature" Capital Campaign.
Document Actions