Colores Kids Playground
Climb like a monkey, run like a cheetah and splash like a seal in the Zoo's play area.
When Visiting...
Take a break at the picnic tables and shaded benches.
Store shoes in cubbies while playing.
Use sunscreen, hats and sunglasses.
Remember a bottle of water and stay hydrated.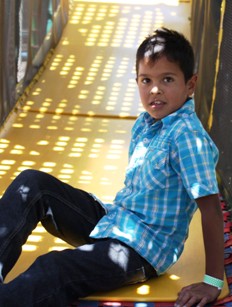 Monkeys, cheetahs and seals aren't the only animals on exhibit. Come explore a habitat designed just for kids. After playing on the jungle gym, designed for kids ages 3-12, cool off in the water. The jumping water spray park flows between 10 a.m. - 4:30 p.m. from Memorial Day to Labor Day, weather permitting.
Our Actions Matter
Kids are an important part of Albuquerque and our world. Here are some great family activities that help kids grow and learn:
Colores Playground Gallery
Images of the ABQ BioPark's Colores Playground.