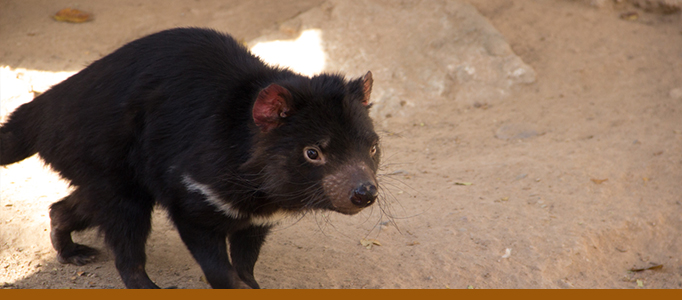 When Visiting...
Learn about Tasmanian devils:
Largest carnivorous marsupials.
Used to occur across Australia. About 500 years ago, they were out-competed by dingos. Now they are only found on the island of Tasmania.
Endangered. They are disappearing at an alarming rate due to devil facial tumor disease, a contagious and fatal cancer.
They are nocturnal.
Solitary scavengers. When several scavengers come upon the same carcass as once, they scream and growl for eating rights.
The ABQ BioPark welcomed two young male Tasmanian devils, Cola and Schweppes, in November 2018. The two came from the Tasmanian Department of Primary Industries, Parks, Water and Environment (DPIPWE). You can see these two at the Tasmanian devil habitat in the Australia section of the Zoo.
The ABQ BioPark is still home to Poppi, who arrived in 2013. In 2018, Poppi, who was considered extremely geriatric, went into retirement behind the scenes. 
The BioPark is one of only four zoos in the Unites States to house Tasmanian devils.
Our Actions Matter
Devil facial tumor disease (DFTD) is a serious threat to the future of Tasmanian devils. Some wild populations have decreased by 80 percent since the disease was first observed in 1996.
While scientists search for a cure, zoos and conservation facilities are raising Tasmanian devils in captivity. This healthy, cancer-free population will hopefully lead to a reintroduction program to prevent extinction.
What can you do? Donate to save the Tasmanian devils.