Australian Outback
Meet marsupials and colorful birds at the Australia exhibit.
When Visiting...
Meet the only Tasmanian wombats in the United States.
Walk through a free-flight exhibit of fluttering budgerigars.
Watch koalas and tree kangaroos in Koala Creek.
Enter the cave in Koala Creek to find more animals from down under, including snakes and fish.
Feed the lorikeets during summer.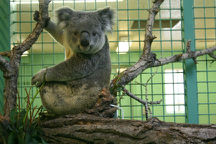 And be sure to hop over to see the red kangaroos at Cat Walk.
The Australia exhibit takes guests on a trip through the outback to see some of the continent's most iconic creatures, including koalas, kookaburras and kangaroos.
Our Actions Matter
Although Australia's animals have adapted to a unique climate, they are threatened by habitat loss and fragmentation. You can help save Australian wildlife by making simple choices:
Recycle and reduce the demand for natural resources like trees and precious metals. Recycling can lessen the damage to Australian landscapes caused by logging and mining.
Support sustainable agriculture by purchasing products grown with responsible methods.
Become a Zoo Parent to support Australian species care, animal enrichment and conservation programs at the BioPark.
Wombat Video
Australia Gallery
Images of the ABQ BioPark's Australia Exhibit.