Zoo Boo offers youngsters a safe alternative for trick-or-treating.
Where: Zoo
Time: 11 a.m. - 4 p.m.
Date: Last Saturday in October.
Find Zoo Boo details in upcoming events.
Cost: Up to four children free per one paying adult.
New Mexico BioPark Society members receive free admission for the adults and children on their pass as usual. To qualify for the offer above, an adult must purchase a ticket.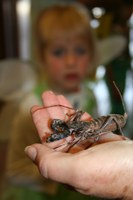 Enjoy the Halloween holiday at the ABQ BioPark Zoo with treats, costumes, and wildlife.
Zoo Boo happens on last Saturday in October each year.
Children can enjoy Haunted Habitats, performances, a costume parade, and, of course, sweets.
Parking
Zoo Boo is the Zoo's busiest day of the year, and finding parking can be a challenge.
If you park in the neighborhood nearby, please be considerate and do not block driveways.
Consider these alternatives:
Park and Ride from

the Aquarium & Botanic Garden.

Service available from 10 a.m. - 5 p.m.

Take the bus!
The Rapid Ride stop at the Main Library is about 14 blocks from the Zoo.
The Route 66 bus stop at Central and 10th is an 8 block walk.
The Rt. 53 bus stops just 1 block from the Zoo entrance.
Volunteer!

Would you like to be a Zoo Boo volunteer?
Make a difference by creating a fun and safe Halloween celebration.  Must be 18 or older, and costumes are encouraged!
For more information, call (505) 848-7172.
Zoo Boo Thanks
Zoo Boo is dedicated to the memory of Dr. Shelly Lerner Burstein, a much-loved local pediatric cardiologist and zoo docent.
A heartfelt thank you to all the wonderful people and businesses who donate each year to the Zoo Boo Education Scholarship Fund, which provides tuition assistance for underserved youth interested in taking BioPark classes.
We would also like to thank our generous sponsors:
Document Actions