Meeting 1,000 or more enthusiastic kids at the Zoo is just a typical morning for Kate.

It's interesting to meet people coming through the BioPark and to see the natural landscape change throughout the year. I love being outdoors, the physical activity and talking to people.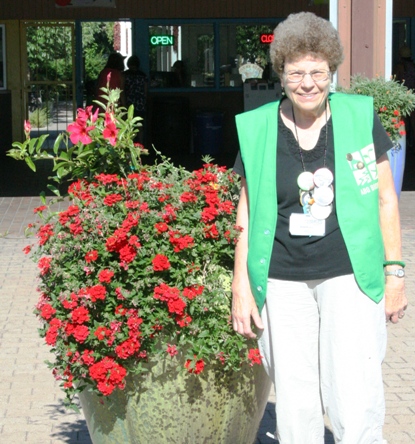 For the past six years, Kate Kraus has volunteered as a BioPark Greeter, and she has been a BioVan Ranger for nearly as long. As a Greeter, Kate welcomes Zoo visitors at the gate on Tuesday mornings; as a BioVan Ranger, she helps lead school groups on Rio Ranger hikes as students look for signs of wildlife.
Kate moved from St. Louis to New Mexico 48 years ago to work as a registered nurse. Now retired, Kate devotes much of her time to volunteering at the BioPark and Roadrunner Food Bank. Her passion for history, religion, music and the outdoors inspires her to look for learning opportunities and new undertakings.
Why did you decide to become a BioPark volunteer?
I was taking "Story of New Mexico" history classes, and I met Jan, a BioPark volunteer. Jan told me about the Heritage Farm and what she did at the Botanic Garden, so I looked into positions. Being a Greeter turned out to be a perfect fit. I also learned about the BioVan and started volunteering as a Ranger shortly after.
What do you love most about being a volunteer?
I love to be outdoors. I learn something new every day that I'm at the BioPark. Sometimes it's something I've never heard before, and sometimes I relearn things I had forgotten.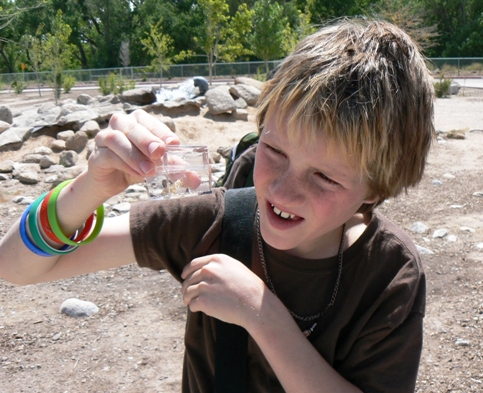 Tell us about a unique experience you've had as a volunteer.
Being a BioVan Ranger can be particularly exciting when we're looking for certain animals on our hikes through the bosque. As volunteers, we go out before we take the kids, and we learn where to look for snakes, porcupines, beavers and animal activity. Once, we discovered a great horned owl nesting in the bosque, and we even saw the chick after it hatched.
What are some of the benefits of volunteering at the BioPark?
It's amazing what people will tell you when you talk to them. As a Greeter, I get to know families that visit regularly. And I always meet new people: groups of kids and out-of-towners. I get to tell them about new things happening at the Zoo and point out any new baby animals. There are so many positions available at the BioPark, that you really get to choose what you want to do and how often you want to do it. Being a Greeter and BioVan Ranger suits me, but there's also the Touchpool for people who want to handle animals or horticulture opportunities for "dirt devils."
Volunteer
Learn more about volunteering at one of our upcoming volunteer trainings.
Photos
Top: The BioVan out in the bosque.
Center: Kate at the front of the ABQ BioPark Zoo.
Bottom: Rio Ranger discovering pond life at Tingley Beach.
Interview by Natalie Sommer on July 25, 2013.
Document Actions