Join award-winning pastelist Vasili Katakis in this four-part painting series.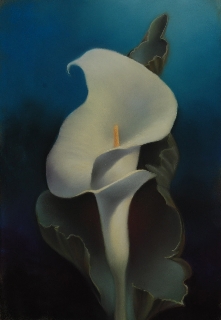 Vasili Katakis
What: Two-day pastel painting workshops.
Where: Botanic Garden
When: Sat. - Sun., 9:30 a.m. - 4:30 p.m.
Price:
$160 per course. 10% discount for enrollment in all four courses. BioPark Society member discounts also apply.
Join Award-Winning Pastelist Vasili Katakis for this studio and plein-aire four-part series highlighting niques in pastel painting with a botanical focus. Each course is a two-day workshop. Spring courses will center on still life; fall courses will center on plein-aire in the Japanese Garden.
Price
Cost per couse: $160
Includes two days of instruction, admission to the Botanic Garden and LaCarte pastel paper.
Enroll in the series and receive a 10% discount on the total cost of the classes. Discounts for BioPark members also apply. Register online or call BioPark Education at 505-848-7180.
Spring Workshops
Painting the Calla From Life
March 2-3, 9:30 a.m. - 4:30 p.m.
Discover the Calla's singular elegance, simplicity and geometric structure ideal for the study of light and shadow. This workshop is designed for one on one instruction; students with beginner to intermediate experience will benefit from this class.
Magnolia in Still Life
April 6-7, 9:30 a.m. - 4:30 p.m.
Using the magnolia blossom as a study, this class will use sketches and still life to observe positive and negative space, light and shadow, spatial contrasts, color temperature and other fundamental aspects of painting. This workshop is designed for intermediate painters and as a refresher for the accomplished pastelist.
Fall Workshops
Intimate Landscape
September 7-8, 9:30 a.m. - 4:30 p.m.
The Sasebo Japanese Garden provides a rich, ever-changing venue for artists' exploration of color, form and composition. This workshop will be a combination of plein aire and studio environments. Ideal for beginner and intermediate artists.
Borrowed Landscape
November 9-10, 9:30 a.m. - 4:30 p.m.
Explore the integration of the nurtured garden within the natural landscape. Expand your skill set to become a better artist through this workshop that will focus on painting traditional Japanese landscape design elements. This workshop is designed for intermediate and advanced artists.
Document Actions