BioPark Earth Week Celebration
Celebrate Earth Day all week long!
Visit the BioPark's Zoo, Aquarium and Botanic Garden to learn more about our planet and what you can do to protect the animals and plants that inhabit the Earth. Discovery stations and hands-on activities at each facility will introduce you to the wonders of nature.
Schedule
April 18: Earth Week Celebration at Aquarium
April 19: Earth Week Celebration at Zoo
April 20: Earth Week Celebration at Tingley Beach
April 21: Earth Week Celebration and Children's Seed Festival at Botanic Garden
Ride Your Bike
Ride your bike to Earth Day and receive $2 off admission!
Children's Seed Festival
At the Botanic Garden, activities include our annual Children's Seed Festival, which is sponsored by the Rotary Club of Albuquerque. Celebrate the connections between seeds, plants and humans with some "seed-happy" people during this annual event at the Children's Fantasy Garden.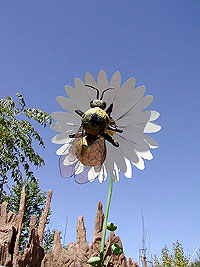 Earth Day activities (including lectures, workshops and demonstrations) are free with admission. For more information, please call 505-848-7180.
Take Action for the Earth
The New Mexico BioPark Society will collect and recycle your old cell phone and phone accessories. Simply bring them to the Zoo or Aquarium/Garden administration office on Earth Day!
For other ideas and more information on how you can help preserve our most precious resources, visit the Sustainability web page.