Ship's Cove
Marvel at detailed miniature ship models and learn about boat designs.
When Visiting...
View dozens of scale model boats, each representing a different historical and cultural design.
Learn the art of ship modeling from our volunteers. (schedules permitting)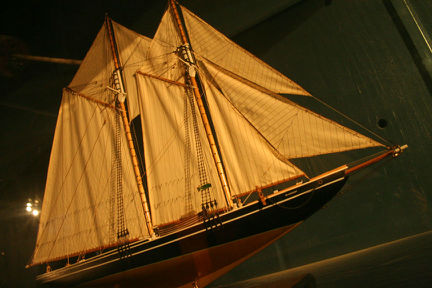 Ship's Cove gives guests a look into intricate ship designs over the course of sailing history and highlights the model ship building of both past and present.
Model ship building, the "hobby of kings," dates back to 3500 B.C. Beautiful model ships were found among gold and jewels in the tombs of Tutankhamen and other Egyptian kings. In later centuries, kings had models built to scale so they could see first hand what the ships in their fleets would look like.
Ship modeling in North America was in its infancy until the 1940s when the first modeling kits became available.
Model boat craftsmen today seem to be motivated by a desire to preserve the elegant designs of historical vessels for future generations as well as by the enjoyment of building their own scale models.
Ship modeling is a relaxing, challenging and rewarding hobby, and can be profitable. To begin, you'll need a kit, tools, a workbench and lots of patience.
You'll be rewarded with a beautiful keepsake and a small piece of maritime history.