Albuquerque Museum: Upcoming Exhibitions
Information about exhibitions coming to Albuquerque Museum.
Miniatures & More 2016
Oct. 23 to Dec 4, 2016
Miniatures & More is a juried art exhibition and sale featuring an exceptional collection of over 100 artists. Small and large scale artworks decorate the gallery in a wide range of mediums and genres- there is nothing "mini" about Miniatures & More! The exhibition benefits the artists whose work it features, with proceeds from art sales divided between the artist and the Albuquerque Museum Foundation. Our valued community partnerships with our sponsors enables Miniatures & More to raise needed funding that provides for exhibition support, educational programming and community outreach for the Albuquerque Museum. For more information, go to www.albuquerquemuseum.org/miniatures.
Mabel Dodge Luhan & Company: American Moderns and the West
Dorothy Brett, My Three Fates, 1958, depicts Mabel, Frieda and DH Lawrence, and Brett herself.
Oct. 29, 2016, to Jan. 22, 2017
Mabel Dodge Luhan & Company: American Moderns and The West focuses on the life and times of one of the early 20th century's most significant cultural figures: Mabel Dodge Luhan (1879-1962). Luhan brought modern art to Taos, N.M., putting Taos on the national and international map of the avant-garde and creating a "Paris West" in the American Southwest. From 1918-1947, Luhan influenced legions of European and American "movers and shakers" to find Northern New Mexico's physical and cultural landscapes—new aesthetic, social, and cultural perspectives on modern life.
The exhibition will include 150 works of art and ephemera produced by the visual, literary, and performance artists who came to Taos at Mabel's behest. The works of Andrew Dasburg, Marsden Hartley, John Marin, Ansel Adams, Agnes Pelton, and Georgia O'Keeffe will be displayed in conversation with the works of Pueblo and Hispano artists who inspired their modernist sensibilities.
Co-curated by a dynamic scholarly team, MaLin Wilson-Powell and Dr. Lois Rudnick, this project offers a transformative and multi-disciplinary contribution to the evolution of American Modernism as it expanded westward.
---
The Jews of Albuquerque in the 20th Century: Building Community Along the Rio Grande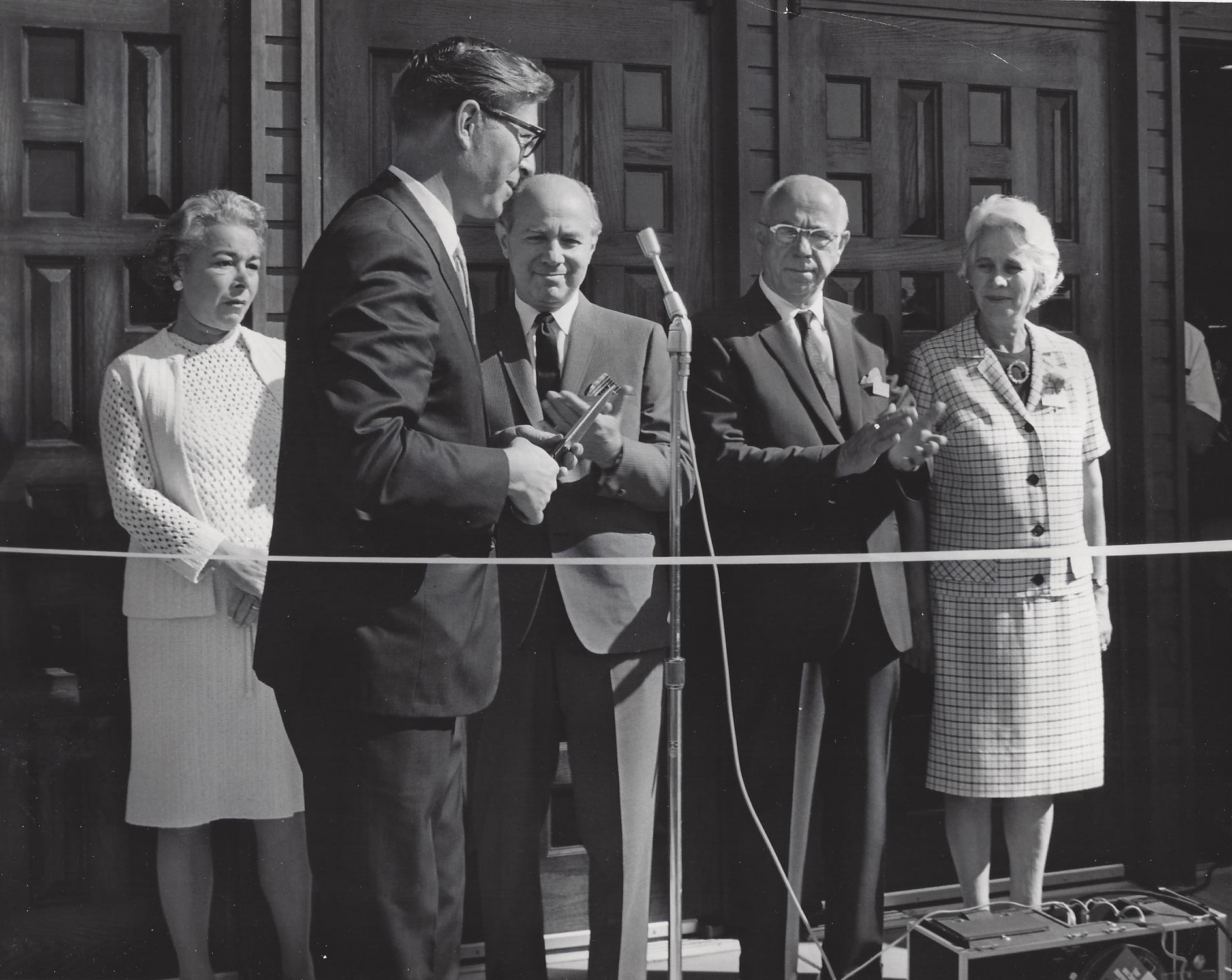 Photo: Ribbon cutting for American Furniture store at Menaul and Carlisle in 1968 with Pete Domenici in front of (from left to right): Frieda Blaugrund, wife of E. Mannie; E. Mannie Blaugrund; Henry Blaugrund; Ruth, wife of Henry.
Nov. 19, 2016, to April 2, 2017
The organized Jewish community of Albuquerque has roots which go back over one hundred years. Though our community is one percent of the total population of the city, Jews have been leaders in business, law, medicine, as well as in the arts and inter-group relations. This exhibit will present highlights of the growth and development of the Albuquerque Jewish community in the context of events in our city and in the world during the 20th century. The presentation will look at contributions made by many as well as present artifacts of Jewish life in home and synagogue.
The Jews of Albuquerque in the 20th Century: Building Community Along the Rio Grande is a community history project that will be presented in the Keleher Gallery. The purpose of this exhibit is to demonstrate how Jews built community among themselves and in a larger and more diverse Albuquerque community. This exhibit will display photographs, artifacts, and Judaica and ritual and celebratory Jewish life, among other items, and feature speakers and performances of Jewish culture.
---
Community Exhibitions
The William A. + Loretta Barrett Keleher Gallery: Exploring the rich heritage of Albuquerque through the stories of the people and community groups that make up the city.
Albuquerque Museum invites community members to propose exhibits for public display. These exhibits serve as a means by which the people of Albuquerque might explore our past, the issues that make up our present, and stories that impact our future.
You can create an exhibit at the Albuquerque Museum! The Museum's Keleher Gallery Review Panel is actively collecting proposals from our local community for our 2018-2020 exhibit schedule. The Keleher Gallery exhibition series presents exhibits on community history and contemporary issues that are important to the people of Albuquerque.
Community Exhibitions: Get Involved
To be part of the Community Exhibitions:
Exhibition Calendar
Back to Life: The Community of Historic Fairview Cemetery (2016)
The Jews of Albuquerque in the 20th Century: Building Community along the Rio Grande (2016)
Chasing the Cure to Albuquerque (2017)
Central Avenue redevelopment near the Huning Highlands neighborhood (2017)
Chinese American contemporary issues (2018)