Albuquerque Museum: Upcoming Exhibitions
Information about exhibitions coming to Albuquerque Museum.
The Jews of Albuquerque in the 20th Century: Building Community Along the Rio Grande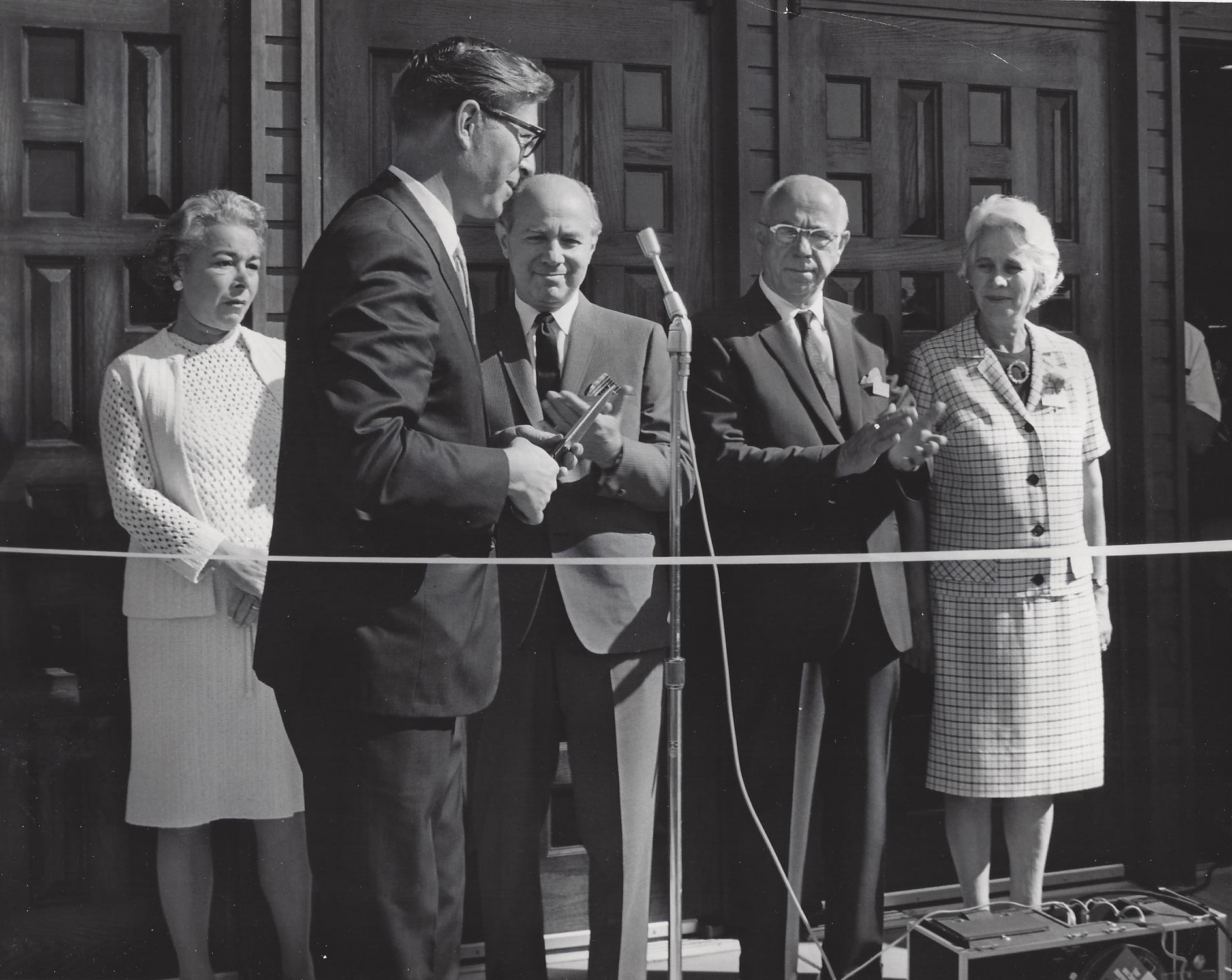 Photo: Ribbon cutting for American Furniture store at Menaul and Carlisle in 1968 with Pete Domenici in front of (from left to right): Frieda Blaugrund, wife of E. Mannie; E. Mannie Blaugrund; Henry Blaugrund; Ruth, wife of Henry.
Nov. 19, 2016, to April 2, 2017
The organized Jewish community of Albuquerque has roots which go back over one hundred years. Though our community is one percent of the total population of the city, Jews have been leaders in business, law, medicine, as well as in the arts and inter-group relations. This exhibit will present highlights of the growth and development of the Albuquerque Jewish community in the context of events in our city and in the world during the 20th century. The presentation will look at contributions made by many as well as present artifacts of Jewish life in home and synagogue.
"The Jews of Albuquerque in the 20th Century: Building Community Along the Rio Grande" is a community history project that will be presented in the Keleher Gallery. The purpose of this exhibit is to demonstrate how Jews built community among themselves and in a larger and more diverse Albuquerque community. This exhibit will display photographs, artifacts, and Judaica and ritual and celebratory Jewish life, among other items, and feature speakers and performances of Jewish culture.
---
The Carved Line: Block Prints and New Mexico
T. C. Cannon, Grandmother Gestating Father and the Washita River Runs Ribbon-Like, 1975 Color woodcut on paper, 16 ½ x 12 in. Collection of Roswell Museum and Art Center.
Jan. 14 - April 16, 2017
An ancient artistic medium with a modern aesthetic, block printing in New Mexico has been impacted by the beauty and tensions of New Mexico's unique cultural landscapes and sacred spaces.
Master artists include Gustave Baumann, Howard Cook, T. C. Cannon, Melanie Yazzie, and Richard Tuttle. The Carved Line showcases a large number of prints from Albuquerque Museum's permanent collection as well as artwork from museums and private collections across the United States.
This exhibition was curated by Josie Lopez for Albuquerque Museum. A book for the exhibition is published by the Museum of New Mexico Press.
---
Hollywood Southwest: New Mexico in Film and Television
Photo: Lobby card, Kit Carson, 1928 Paramount Pictures Offset lithograph Courtesy Paul A. Hutton
Feb. 25 to August 27, 2017
From Billy the Kid to Breaking Bad, movies and television have portrayed and marketed our state into the present day. Guest curated by American cultural historian Paul Andrew Hutton, this pop culture exhibit includes westerns, war movies, comedy, and science fiction.