About the Comprehensive Plan Update and Creation of the Unified Development Ordinance.
Why This Project Matters
This project is important because it will update zoning and all land development regulations in the city.
Leave a comment on this project
Project Team
Mikaela Renz-Whitmore
[email protected]
505-924-3932
Andrew Webb
[email protected]
505-768-3161
By the end of this process the City of Albuquerque will have a Comprehensive Plan and a Unified Development Ordinance that are up-to-date, easy to use, and enforceable.
Latest Update
1/7/2015: The Planning Team is targeting February 4th-6th, 2015 for kick-off events. Stay tuned for opportunities to meet the team and provide input.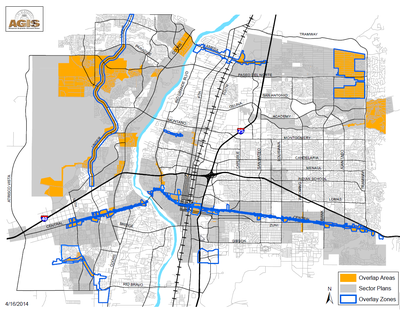 What is This Project About?
This is a city-wide project to update and streamline the plans and regulations guiding growth and development.
Purpose
Update existing adopted policies and regulations, particularly those related to coordinating land use and transportation and integrating mixed-use zoning.
Update and streamline the system of regulations to implement the Comprehensive Plan and incentivize development that creates high-quality, mixed-use destinations connected by vibrant, multimodal corridors, while protecting and enhancing rural and other special places.
Consolidate multiple land use and transportation documents into a new, user-friendly Unified Development Ordinance that establishes modern, context-sensitive zoning city-wide.
Health/Quality of Life
Economic development

: diversifying economic sectors, leveraging cultural activity, growing small businesses, and attracting and keeping young workers.

Placemaking

:  creating vibrant, walkable centers; enhancing special places; attracting employers to activity centers; and ensuring better access for everyone.

Access/Mobility

: ensuring the mobility and safety of all users in all areas of the region and supporting land uses.

Quality of Life

:  providing equitable access to goods and services for all residents; ensuring housing options at all stages of life;  enhancing access to healthy recreational areas, including parks and open space areas; encouraging vibrant activity in public places; and supporting economic activity that provides options for meaningful employment with livable wages.

Sustainability

:  establishing a diverse economy, matching economic activity with available resources; preserving rural, recreational, and open space areas; conserving water resources; and improving alternative transportation options.
History & Timeline
Project Approach
The City intends to hire a consultant to help with this comprehensive, far-reaching planning effort.  Together with the consultant, City staff from the Planning Department and Council Services and County staff from the Planning and Development Services Department will work with stakeholders to target updates needed to the Albuquerque-Bernalillo County Comprehensive Plan.  The land use and transportation sections are expected to be updated to better implement the Centers and Corridors vision, first set out in 2001 and updated in 2012.  An extensive outreach effort will be needed, including property owners, neighborhood associations, the business and development communities, advocacy groups, City and County departments, non-profits, and other agencies and institutions.
At the same time, the City project team will also be working with stakeholders to devise zoning strategies to incentivize development where it is desired, consolidate special-use zoning where appropriate, illustrate regulations to be more user-friendly, and create zoning standards that result in high-quality development complement surrounding development.
Together, the updated Comp Plan and new UDO are intended to facilitate desired development, coordinate the provision of City services, garner interest from major employers and desirable industries, expand opportunities for entrepreneurs, attract and retain the best and brightest workers, and maximize the returns on investments made by the City for infrastructure and economic development.
Upcoming Meeting Schedule
| Date | Summary | Presentations and Related Documents |
| --- | --- | --- |
| Feb. 4-6 2015 | Project Kick-Off; Consultant team in Albuquerque | |
| Feb 4, 2015 | TENTATIVE: Public Meeting | |
Components
Ultimately, the City would like to incorporate policy plans such as Rank 2 Area Plans into the Rank 1 Comprehensive Plan, extending policies for smaller geographic areas that should apply city-wide and eliminating duplication of policies where they overlap.
A significant task for this project is to take a close look at existing Rank 3 Sector Development Plans to determine whether they are still relevant, to extend ideas or strategies that might work well city-wide, and to consolidate zones that might work well in areas with similar character or challenges.
Another major task involved in this project is to update the standards for streets and streetscapes currently regulated by the Development Process Manual.  The goal is to create street standards that better support land uses, better support transit and other public infrastructure investments, and that work better for multiple users (i.e. multi-modal, complete streets).
Plans, Documents & Downloads
Supporting Documents & Background Information
Date
Document
Details
8/21/2014

Presentation

Presentation for Bernalillo County Placematters.

6/25/2014
Frequently Asked Questions
Frequently Asked Questions regarding this process
5/19/2014
R-14-47
Albuquerque City Council approved funding for this project during the FY15 Budget adoption.
5/14/2014
Overview Presentation
PowerPoint Presentation given at LUPZ that outlines the purpose of this process.
4/21/2014
R-14-46

The Albuquerque City Council unanimously approved:

Update of the Comprehensive Plan
Creation a Unified Development Ordinance (UDO) to update and replace, the Zoning Code, Development Process Manual, and other ordinances and policies regulating land use and transportation in the city to reflect best planning practices
List of Development Plans and Policies in Albuquerque.
Existing Comprehensive Plan
Meet the Team
Planning Department:
Project Manager:         Russell Brito, Manager, Urban Design & Development Division
Project Planner:           Mikaela Renz-Whitmore, Urban Design & Development Division
Council Services:
Project Planner:           Andrew Webb, Policy Analyst
Project Planner:           Debbie Stover, Consultant
Bernalillo County:
Project Manager:          Enrico Gradi, Deputy Director of Planning & Development Services
Project Planner:           Catherine VerEcke
Consultants:
Clarion Associates will serve as project manager and primary UDO drafter and will be responsible for team management and all aspects of project success.
Fregonese Associates will lead the Albuquerque/Bernalillo County Comprehensive Plan update effort.
Dekker/Perich/Sabatini will provide Albuquerque-based planning, zoning, community engagement support.
Kimley-Horn will ensure that land use and transportation are coordinated in both the Comprehensive Plan and the Unified Development Code.
Leland Consulting Group will ensure that market economics and real estate realities are reflected in both the Comprehensive Plan and Unified Development Ordinance.
Karpoff & Associates will focus on continued and wide ranging communications with neighborhoods.
Urban Interactive Studios (UIS) will spearhead our web design and web-based/social media engagement work.  UIS brings to the team a history of successful development and use of social media apps and software specifically designed for planning-related projects.

Roles:
City Planning staff will play an active and ongoing role in:
project oversight
data collection and analysis
mapping
coordination among City and County staff and other agencies
community outreach
research
policy formation
writing/editing of the Comp Plan and UDO elements
The consultant team is expected to provide:
project management
technical expertise
graphics
data collection and analysis
best practices research
policy development and testing
writing/editing of Plan and UDO elements.
Under City Planning's oversight, the consultant team's work efforts must be coordinated seamlessly so that local knowledge and experience complements the contracted team's expertise and vice versa.
Document Actions