ART Project
About the Albuquerque Rapid Transit Project (ART) in District 6.
I'm a big supporter of public transit and it is absolutely clear that we have to update and expand our system to meet growing needs.
One proposal, a bus rapid transit line along Central Avenue was proposed in 2015. After a series of public meetings, the Mayor's office submitted an application for funding to the Federal Transportation Administration. Since that first application, the design has been updated and more impact studies have been completed.
By the time I took office in December 2015, I'd heard from a lot of Burqueños, both for and against ART. No matter what their position, they all had more questions than the city has provided answers.
In talking with other councilors, I know we share some of the same concerns. Councilor Benton, who represents Downtown and a large portion of Central Avenue adjacent to our district, recently posted his letter to the Federal Transportation Administration outlining his perspective on the project, and community concerns still needing attention. I share his concerns. You can read them all here.
I can't speak to how the well the City has previously done outreach, but we're hitting the reset button to make sure our district has the best information available. With our new outreach, our questions are being answered.
I want to hear from you on this project.
Updates
What's Going On with ART? Community Forum on February 3, 2016
On Wednesday, February 3rd, Councilor Davis hosted a Community Forum at the Hiland Theater. More than 250 people attended to hear updates on the project and have questions answered from City of Albuquerque representatives, which included;
Michael Riordan, City Chief Operating Officer
Dayna Crawford, ART Project Manager
Bruce Rizzieri, Transit Department Director
Joannie Griffin, on behalf of Bradbury/Stamm, ART Construction Manager
In order to accommodate the large number of questions, staff provided note cards from attendees to submit their questions. While we were able to answer some of the more common questions during the meeting, we didn't get a chance to answer them all.
 The ART Project Team is posting them on their website's FAQ page at brtabq.com. If you have further questions, please contact Sean Foran at [email protected]. 
Thank you to all the individuals and organizations that helped spread the word and making this event a great success.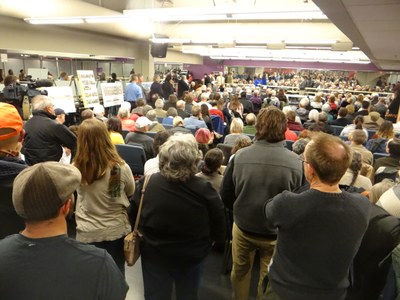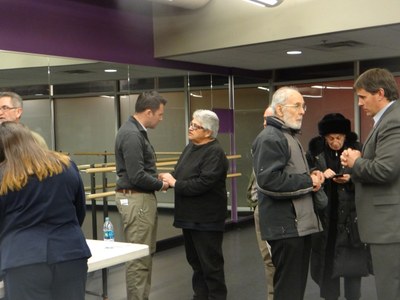 Here are the results from attendees exit survey:

More Information
For more information on the ART Project visit brtabq.com