North Domingo Baca Multigenerational Center is in the northeast heights of Albuquerque. The state-of-the-art, multifaceted North Domingo Baca Center opened on June 11, 2011.
North Domingo Baca Multigenerational Center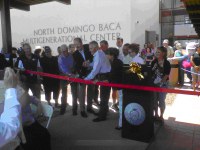 Phase I included: A Fitness Room, Classrooms, a Social Hall with a stage, Restrooms, Kitchen, Computer Room, Coffee Bar, and Staff Offices.
North Domingo Baca was a 14-year effort started in 1997 when the City bought most of the land for North Domingo Baca Park from AMAFCA. Since then the City has invested over $7.3 million for the land, preparatory work, and construction of the Center and Park. North Domingo Baca would not have been possible without the years of tireless support and effort from current and former State Senators and Representatives who sponsored grants: Larry Larranaga, Teresa Zanetti, Justine Fox-Young, John C. Ryan, Kent L. Cravens, Mark Boitano, and Diane Snyder.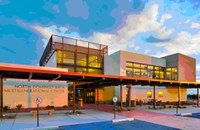 The tenacity and passion of the District 4 Community and City Councilor Brad Winter also made the North Domingo Baca Center possible for use by everyone - children, adults, and seniors. Phase I of North Domingo Baca was constructed with the design work of Mahlman Studio Architecture, the craftsmanship of Enterprise Builders, and the oversight of the Senior Affairs and Municipal Development Departments. Success would not have been possible without the countless community meetings and support from the taxpayers, which has built a wonderful Center that we can be proud of.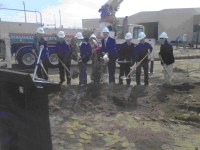 Phase II of North Domingo Baca Multigenerational Center broke ground on January 31, 2012 with the help of District 4 City Councilor Brad Winter, Mayor Richard J. Berry, Director of Senior Affairs Jorja Armijo-Brasher, Director of Municipal Development Mike Riordan, and many others.
Phase II is a Leadership in Energy and Environmental Design (LEED) gold and silver project that will expand the popular Multigenerational Center by 14,400 sq ft. The addition will include additional Classrooms, a Game Room, an Aerobics/Dance Room, and an Arts and Crafts Studio.
Document Actions