Spring Baby Boom at the BioPark
Learn about the ABQ BioPark's newest additions.
Baby Update: Shelldon the Sea Turtle
Shelldon the loggerhead sea turtle weighed 70 grams (less than a quarter of a pound) upon arriving at the Aquarium in October 2017. At Shelldon's last weigh in, the turtle had grown to 7 pounds! Shelldon eats three times per day. The turtle's diet includes smelt, shrimp, clams, capelin, lettuce and a vitamin and mineral supplement. Aquarists make sure to drop food to the bottom of the tank to help Shelldon practice diving to the bottom of the ocean floor for food. One day, Shelldon will be released into the wild, so this important skill will help the turtle survive.
Baby Update: Giraffes
Last year the ABQ BioPark's reticulated giraffe herd welcomed two calves, both sired by father Buccaneer. Jambazi just turned 1 year old this June. He and his mother June are the first to come engage visitors at the Zoo's giraffe feedings. Malika was born in October 2017 to first-time mother Camilla. 
According to Hoofstock Zookeeper Supervisor Chaz Moxley, the two are doing well and growing quickly - Jambazi is almost 800 pounds while Malika has surpassed 600 pounds. "Jambazi is pretty relaxed, not phased by much. He enjoys interacting with the keepers and is doing great with training," said Moxley. "Malika is more like her mother Camilla. She is cautious and a little flighty when there is any disturbance around. She does enjoy interacting with the keepers and we are starting to work more with her as she becomes more independent of mom."  Giraffes are considered vulnerable to extinction in the wild.
July 9, 2018 - This spring, the ABQ BioPark welcomed several new baby animals to the Zoo herd. All of the new mammal babies are part of Association of Zoos and Aquariums Species Survival Plans.
Elephant
After 659 days of anticipation, mother Rozie welcomed baby bull Thorn on May 4. He is the Zoo's fourth Asian elephant calf born since 1992. According to Elephant Manager Rhonda Saiers, Thorn is gaining an average of 2.5 pounds per day.  "He has gotten enough trunk control to be able to suck water up and blow it into his mouth to drink and be able to take treats from us (little bits of carrot and monkey chow)," she said. "He's doing great!" Asian elephants are endangered in the wild. 
Learn more about the Zoo's elephant herd.
Lemur
Black-and-white ruffed lemurs Darby and Nuit welcomed baby Izy on April 14.  Zookeepers will not know the gender until the infant reaches sexual maturity at about 2 years old. Izy joins his/her parents, siblings Bruno, Finch, and Cricket, and uncle Kirby on exhibit. Izy is learning to be a lemur from the family while Izy's siblings are simultaneously learning how to act around and eventually raise their own babies by watching their mom raise Izy. Black-and-white ruffed lemurs are critically endangered in the wild. You can visit the lemurs near the Australia section of the Zoo, close to the duck pond and across from Tasmanian wombat and devil exhibits.
Learn more about the Zoo's lemurs.
Snow Leopard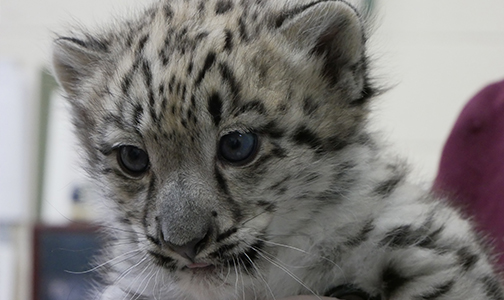 Snow leopards Azeo and Sarani welcomed their first cub together on May 19. Veterinary staff performed the male baby's first health exam on June 28 and are happy to report that all is well. The cub and his mother will have in/out access to their exhibit starting in mid-July and will be able to choose to be seen by the public if they wish. Please note that the cub may not be consistently visible for some time.
The ABQ BioPark has a strong legacy of breeding snow leopards. Azeo sired 12 cubs at the ABQ BioPark with his former mate Kachina. This is Sarani's third litter. Snow leopards are vulnerable to extinction in the wild.  
Wild Ducks and Geese
In addition, the ABQ BioPark also welcomed new goslings and ducklings at the Zoo, Botanic Garden and Tingley Beach. These animals are not part of the ABQ BioPark's animal collection, but they call the facility home. Come to the ponds to watch them swim in single-file lines with their mothers and siblings.
---
Our Actions Matter
Learn more about the ABQ BioPark's conservation initiatives and what you can do to help too.