Ozone in Albuquerque
Learn about summer ozone risk and what you can do to help.
Ozone Forecast
How you can help
Use mass transit
Drive less
Gas up after 6 p.m.
Don't spill any gasoline when fueling up.
Don't overfill your tank, stop at the click.
Click-fit the gas cap or replace it.
Walk inside instead of using the drive-up.
Decrease use of gas powered lawnmowers, leaf-blowers, and weed-whackers.
More stay healthy tips
Is ozone a problem in Albuquerque?
Albuquerque is in attainment for the current ozone standard. Attainment means we meet the requirements of the National Ambient Air Quality Standard (NAAQS) for Ozone.
In fact, ozone-levels in Albuquerque have dropped in recent years even though Federal standards for ozone have been strengthened at a faster rate. See the graph below.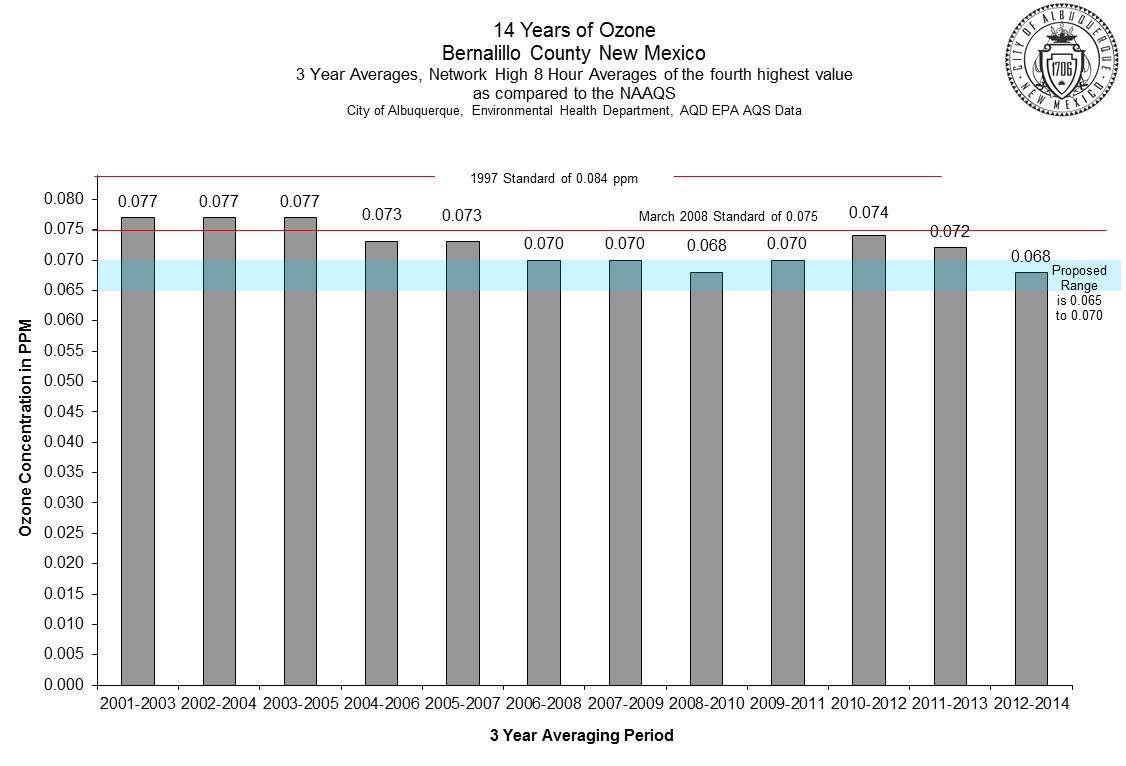 Is ozone a problem all year?
No. Ozone is only a concern during the warm season.
During the cool season, our sun angle is lower than in the warm season. Sunlight drives the chemical reactions that result in the formation of ozone. Thus the greater intensity sunlight of summertime results in greater concentrations of ozone.
In the winter, Albuquerque sometimes experiences conditions that cause a temperature inversion. This traps particulate matter, pollution from wood stoves and other sources.
Is ozone the only pollutant we have to worry about?
No. Particulate matter (PM) is a term that encompasses a wide range of pollutants. PM in the air we breathe can come about from many sources, including blowing dust, smoke from wildfires, and industrial pollution.
What should I do to stay healthy?
Plan outdoor activities in the morning or evening.
"Your chances of being affected by ozone increase the longer you are active outdoors and the more strenuous the activity you engage in. You could plan outdoor activities when ozone levels are lower, usually in the morning or evening."