City of Albuquerque's 50-Mile Multi-use Trail and Bikeway Project Makes Strides Toward Completion
The Coors/Eagle Ranch section fills gaps in existing trails
September 18, 2018 
ALBUQUERQUE, N.M. – Mayor Tim Keller announced the completion of Phase 4 of the 50-Mile Activity Loop today.  This section of the loop starts at Coors and Eagle Ranch and goes to the Paseo del Norte Frontage Road. Improvements include:
A multi-use trail
Shared bicycle lane (or sharrow)
ADA improvements
Signage and striping
The project connects the existing Piedras Marcadas Park Trail to the Paseo del Norte Trail and is funded by federal dollars and a local match.  This is part of the overall 50-Mile Activity Loop.
"This new multi-use trail and bikeway system makes our city even more accessible for recreational activities for folks living on the Westside," said Mayor Tim Keller.  "Working together with our partners to get this project going shows how we can come together as 'One Albuquerque' to improve quality of life for all Burqueños." 
Planning for the project began in 2013 when the City worked with community leaders, citizen groups and local engineering firm Wilson & Company to develop the 50-Mile Activity Loop Plan. The Loop is nearing completion and there are two additional projects scheduled for 2019 (Central/Unser and the Tower Road project).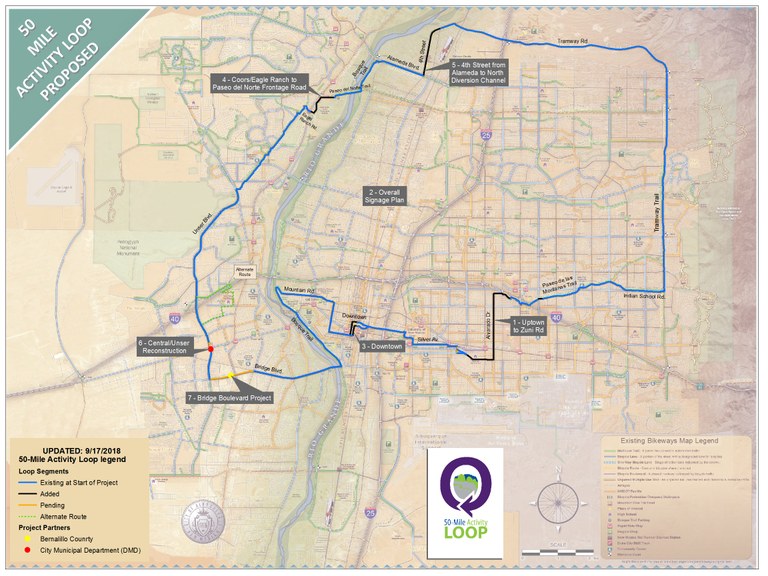 Download 50 Mile Activity Loop map.
For more information, please visit the 50-Mile Activity Loop website at https://www.cabq.gov/50-mile-activity-loop .